Violent Gang Steals Over 3,500 Pounds of Cheese Worth $23,000 From Farm
A Dutch cheese heist has resulted in thousands of dollars lost and a stern warning to others to protect their products.
The thievery reportedly occurred last week at a dairy farm called Torenpolderkaas in Fijnaart in Noord Brabant, Netherlands, according to local broadcaster Omroep Brabant. It resulted in over 3,500 pounds of stolen cheese amounting to approximately $23,000 in value in the U.S.
Cheese heists tend to be on the rare side, at least in terms of large volumes, but they occur worldwide. In 2016 in Wisconsin, about 160,000 pounds of cheese was stolen from multiple stores, according to Vice.
Mashed reported in 2020 that about 4 percent of cheeses worldwide are stolen, making it the most stolen food on earth. Flipping the stolen cheese for resale value was described as the prime reason for thefts.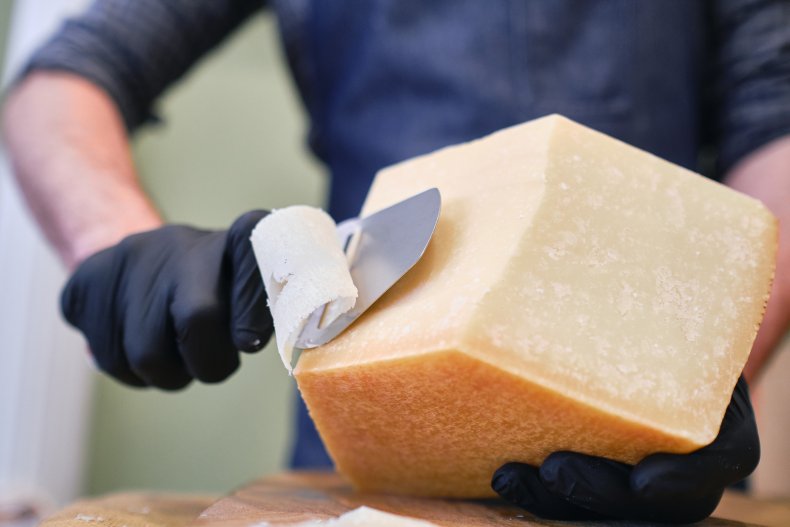 Theo Dekker is chairman of the Association of Farm Dairy Preparers, which looks after the authenticity of products like milk and cheeses. Cows, sheep, goats and buffalo milk is processed into multiple types of cheeses, in addition to buttermilk, yogurt, custard, butter and other fresh dairy products.
Dekker told Omroep Brabant that the theft has not only made the organization more aware of the potential of future thefts but also has put into perspective the lengths some groups will go to make money—no matter what kind of cheese they are able to pilfer.
He said the incident was part of a violent "well-organized crime" operation involving criminals that "already explored the farm shop a few days before so that they know exactly what to pack."
"We are a bit afraid of this," Dekker told Omroep Brabant. "They don't shy away from entering a cheese farm with brute force. In no time they fill their bus and leave."
Cheese is stolen due to its value, Dekker added, saying that the different products made out of raw materials attract certain consumers and deliver a big payday for thieves.
"It is of course never pleasant to have burglars in your yard," he said. "We know all too well how much craft is involved in the cheeses."
A similar theft occurred years ago and was followed by "a few quiet years" in which farms were mostly left alone.
Stolen cheese doesn't tend to stay in the country very long, either. Dekker explained that such cheese finds its way across the Dutch border into Eastern Europe, where it is traded—such as in countries like Russia, where economic boycotts prevented the sale of Dutch cheese "for some time."
But selling stolen cheese is harder than it sounds, at least in the Netherlands. Dekker said that is due to cheeses actually having unique registration codes that prevent resale while allowing for the tracing of cheese to their origins.
Online sales are also monitored.
The code makes a difference, as was evident by a cheese heist last year that was caught within 15 minutes at a Dutch market. The thief who was caught may have been an amateur, however.
"The number is pressed into the rind and cannot be removed without damaging the cheese," Dekker said. "As a result, the thieves cannot sell the entire cheese in the Netherlands. But yes, if you cut off a piece, you can no longer see where the cheese comes from."
Dekker suggested for stores and farms to invest in surveillance cameras and insurance to prevent future thefts.
Newsweek reached out to Dekker and other officials at the Association of Farm Dairy Preparers for comment.