Violent Videos Aim to Stoke Fear and Tension Between Chicago's Black and Latino Communities
Activists and community members from Chicago's black and Latino communities are trying to ease tensions between the two groups after reports of black citizens being attacked by residents of the predominantly Mexican neighborhood of Little Village in the city's southside.
Little Village community organizers coordinated demonstrations last weekend in solidarity with black racial justice protesters, according to The Chicago Tribune, demanding police change following the May 25 death of George Floyd, the 46-year-old black man who died in police custody after a Minneapolis officer knelt on his neck for nearly nine minutes.
However, on Sunday, as protests in the city served as a springboard for looters to begin pilfering Little Village's local businesses, the neighborhood's Mexican residents began standing guard to dispel any attackers.
Shortly after, videos began to circulate on social media appearing to show black residents being attacked by alleged members of the Latin Kings street gang in Little Village and Cicero.
Two videos appeared to show Mexican residents hitting the cars of black drivers with bats and bricks; another appeared to show a menacing group of Mexican men holding bats and metal pipes and claimed the men were attacking any black people driving through the neighborhood.
The posts labeled the attacks as a "race war" and warned black Chicagoans to avoid the neighborhoods lest they be profiled and assaulted as looters.
Despite escalating tensions caused by the social media videos, black and Mexican activists advised members of both communities to stay focused on solidarity rather than a divisive "distraction" to the systemic racism being opposed in Floyd's memory.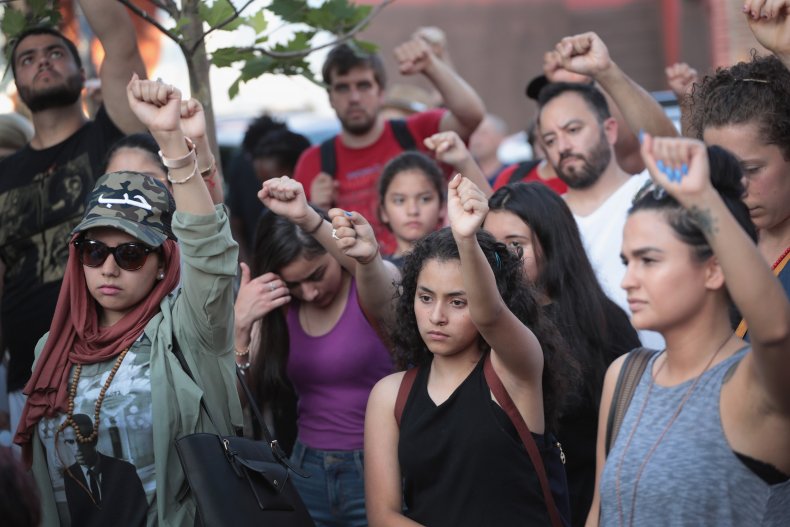 Berto Aguayo, director and co-founder of the grassroots non-violence and community building organization Increase the Peace, told the Tribune that anti-black attitudes remain prevalent in the Latino community.
A 2017 Vanderbilt University study backs up his claim somewhat as black race and skin color in Mexico were largely associated with decreased wealth and schooling among Mexican citizens.
"A lot [of the reporting of inter-racial violence] is false," said Benjamin Estrada, outreach director of the Little Village's New Life Centers for youth mentoring and education.
"There's definitely been incidents and a few people that have acted out of line," he continued, but they are not a reflection of the whole neighborhood."
Nevertheless, Xavier Ramey, CEO of the social impact consulting firm Justice Informed, said he has felt more afraid walking around Little Village ever since Sunday. He calls the violence and the resulting fear between communities "a tragedy."
Despite that, Mexican organizers from Little Village are continuing to organize marches in solidarity with the black racial justice movement.
One such Tuesday march featured a sign reading "Brown people for Black power," and another on unity march on Wednesday featured black and Mexican residents marching side-by-side, committed to ending the discrimination and exclusion that have harmed both communities in the U.S. for decades.
"All too often in Chicago, Latinos and African Americans fight for scraps," Marlen Garcia wrote in a recent Chicago Sun-Times column. "We have to accept slumlords as landlords. We don't know where to turn when our wages are stolen. [We] fight against the stereotype of being lazy... [and] get exploited for cheap labor."
"If we'd let our ties bind us," she continued, "we'd be so much stronger against a predominantly white political and corporate power structure that thrives on our marginalization."