117-year-old Jamaican Violet Brown Is Now the World's Oldest Person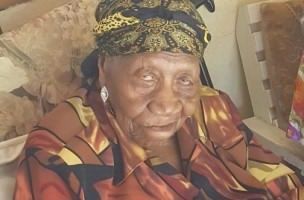 Updated | Jamaican Violet Brown, 117, has been named the oldest person on Earth, following the death of Italian Emma Morano, who held the title until she died on Saturday, aged 117.
Brown, known to family and friends as Aunt V, was born on March 10,1900, when the island was still a British colony. After Morano died, Jamaica's Prime Minister Andrew Holness confirmed that Brown was now the world's oldest person and sent his congratulations to the centenarian on Twitter.
In an interview with Jamaican newspaper The Gleaner in 2010, Brown said that as a child she used to walk barefoot for three miles to fetch water.
"These young people these days have it easy—piped water, taxis and buses to bring them where they want to go, everything to their convenience," she told the newspaper. "When I was younger, and even as an adult, I had to work so hard that sometimes when I look back, I cry at how hard I had to work to make a living for my family."
Brown has worked as a dressmaker, cleaner, music teacher and church organist throughout her life. After her husband's death in 1997, she took over his job as a record-keeper for the local cemetery. An avid churchgoer, Brown told The Gleaner that she lives in accordance with the Christian commandment: ' Honor your mother and father so your days may be long.'
"I have been baptized since I was 13 years old and I have over 50 years of staunch contribution to the church," she said.
Apart from mild deafness, she does not suffer from any illnesses or conditions. Brown claims that there is no secret formula to her long life. "Really and truly, when people ask what I eat and drink to live so long, I say to them that I eat everything, except pork and chicken, and I don't drink rum and dem tings," she told The Gleaner.
Brown lives at home in Trelawny, Jamaica, with her 97-year-old son and her grandson.
Correction: Due to an editing error, an earlier version of this article said Violet Brown was 177, not 117.