Violinist on Southwest Flight Ignites Debate
Passengers on a Southwest Airlines flight recently were serenaded by a professional violinist, and when the company shared the video on Twitter, people had strong reactions.
Southwest has been under scrutiny since an Arctic blast in late December led to thousands of flight cancellations around Christmas, blamed on weather as well as staffing and scheduling issues. The airline took the No. 1 spot in the Top 10 Best Airlines in America: Economy/Basic Economy in 2022, according to J.D. Power.
The airline has been known for its unique approach to some flights, such as when it partnered with Guitar Center to provide a ukulele and 20-minute lesson to every passenger on a flight from Florida to Hawaii in September.
The airline often responds to customer tweets with memes and frequently makes puns and jokes.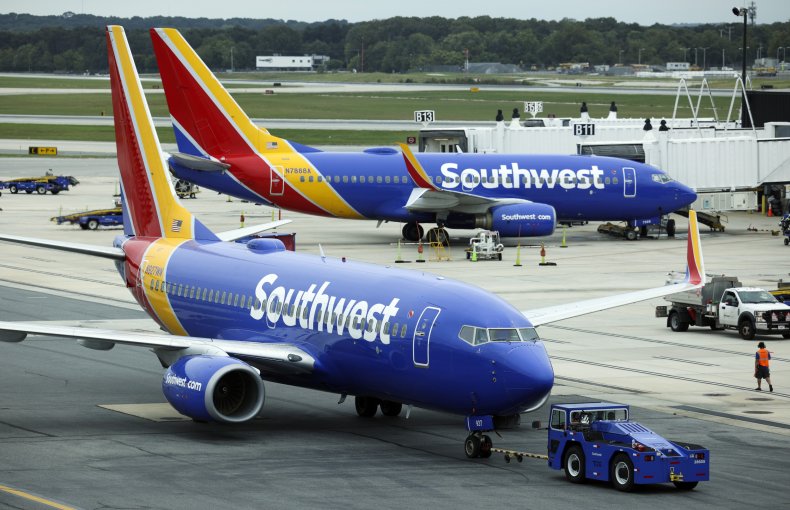 Most recently, professional violinist Brandon Elliott serenaded a group of passengers on a Southwest flight from Las Vegas to Dallas.
"Imagine getting serenaded at 30,000 feet by a professional violinist," Southwest tweeted Thursday with the heart eyes emoji. The video has been viewed nearly 380,000 times.
In the video, many people are seen recording the performance on their phones. When the airline shared the video to Twitter, some people had positive reactions.
"That's awesome," one person tweeted with a musical note emoji.
"Beautiful," someone said with the heart eyes emoji. Another asked if the performer took requests.
However, some people thought the musical performance was more annoying than pleasant.
"Why does Southwest keep torturing its passengers? ukulele, lost bags, cancellations, and THIS? People just want to fly in peace!" Breaking Points co-host Saagar Enjeti tweeted with the video.
"I'd fake a peanut allergy and start choking so we could make an emergency landing and make him stop," another person tweeted.
Southwest also shared the video on its Facebook page.
"Very talented I'm sure but no thank you. Thank goodness for my noise cancelling headphones, I'll choose what I listen to," one person responded.
Other recent creative efforts by the airline included provided passengers with Mardi Gras masks and bingo games on February 20.
"We kicked off PARTY Gras early this year as we showered one special flight to New Orleans with masks, beads, games, a free drink (21+), and @CommunityCoffee!" Southwest tweeted.
In advance of the Super Bowl on February 12 between the Kansas City Chiefs and Philadelphia Eagles, Southwest had puppies waiting to greet passengers at one terminal in Denver to celebrate the Puppy Bowl that precedes the football game.
Around the winter holidays, Southwest tweeted pictures of holiday decorations adorning various Southwest stations in airports.
In early December, Southwest tweeted a picture of Challenger, a bald eagle trained to free fly over stadium events, riding as a passenger in one of the planes.
"Favorite Passenger award goes to Challenger the Eagle, sorry everyone else," Southwest tweeted.
Newsweek reached out to Southwest Airlines for comment.