Viral British TV Ad 'Complaints Welcome' Calls Out Hurtful Stereotypes
Earlier this month, a British TV channel released an ad letting its viewers know that they are not trying to please viewers who are wont to discriminate. On Tuesday, that same ad went viral on Reddit, with many commenters praising Britain's Channel 4 for creating a commercial about the complaints that the network has received about its personalities and its programs.
The promotion features a variety of public figures and presenters, including Great British Bake Off's Sandi Toksvig and Prue Leith, journalist Jon Snow, Paralympic medallist Ellie Simmonds and the actresses who play the Derry Girls.
"Can we just take a minute to appreciate Channel 4's complaints video, that's some good marketing," a user wrote on Reddit.
Along with the comment was a copy of the cheeky minute-and-thirty second-long advertisement.
In the commercial, Toksvig appears wearing a leather jacket. Sitting on the back of a motorbike as explosions fill the background, she says in a deep voice: "She looks like Tom Cruise."
British rapper Big Narstie read a purported complaint that called him "too black," while Paralympic swimmer Ellie Simmonds repeats the viewers' complaint to the network that Paralympians are "not real athletes."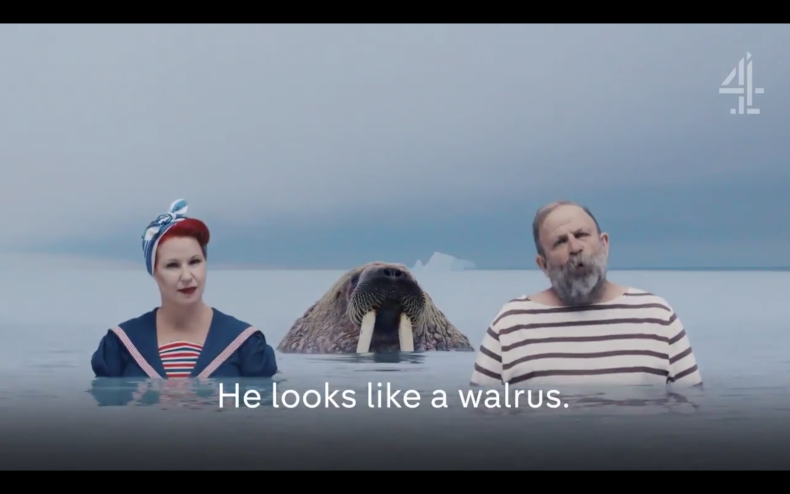 The commercial has been viewed several millions of times and shared thousands of times cumulatively across social media platforms, with many users thanking the network for calling out viewers for their hurtful complaints.
"Actually amazing, I know a few people in the family who would leave complaints like this. Bravo," one user wrote on YouTube.
At least one other user on Reddit explained that the complaints have to do with a person's background or perspective and are not necessarily meant to be hurtful.
"Just started watching Derry Girls and I loved it! But yeah I watch it with subtitles because I'm American and old," the user wrote.
In a statement last week, Ian Katz, Channel 4's Director of Programmes said: "This campaign celebrates one of the things at the heart of Channel 4's identity: challenging the way our viewers think about the world. When there isn't someone complaining about one of our shows we should be worried."
Channel 4 Marketing and Media Controller James Walker added: "It reinforces the message that stimulating debate and discussion is part of what we do."
Other personalities featured in the commercial included Sharon Horgan, Mo Gilligan, Alex Brooker, Kevin McCloud, Katherine Ryan, Fatima Manji, Dick Strawbridge, Angel Adoree, Jimmy Carr, Jamali Maddix, Krishnan Guru-Murthy, Rachel Riley, Cathy Newman and Jamie Oliver.
Channel 4 execs encourage viewers to voice their complaints at ComplaintsWelcome@Channel4.co.uk.