A viral video that showed a group of pigs nestled in a pile sparked a conversation in the comments section about how farm animals are raised before they are eventually slaughtered for food.
The video, which was posted to the TikTok account @fisshsouup where it amassed more than 3 million views, showed the reaction from the group of pigs when happily greeted by the person who shot the video at Warren Wilson College Farm in North Carolina. However, people in the comments section appeared to be split on the kind words if the pigs are to be slaughtered.
The discussion around the treatment of farm animals is not new, and farming techniques have evolved over the years. Some farms have adopted more "ethical" farming approaches, according to the World Animal Protection.
"Hey, guys! Hey! I love you," the individual said to the pigs. "You're perfect and cute and special!"
The pigs wiggled their ears in response to what was said.
"Sweet piglets taking a nap, ears wiggle when you say kind things," the caption on @fisshsouup's video read.
The World Animal Protection reported that farm animals raised humanely are healthier and can live longer lives.
"High welfare farming can be less damaging to the environment," the organization stated. "And farmers can earn more too."
It also claimed that humane farms can use less feed, fuel and water than intensive farming while creating jobs and keeping local food supplies healthy.
"By farming crops and livestock, humane farms can reduce environmental damage—recycling nutrients and improving the soil," the organization stated. "Greenhouse gas emissions are often reduced when animals are healthy and have good welfare."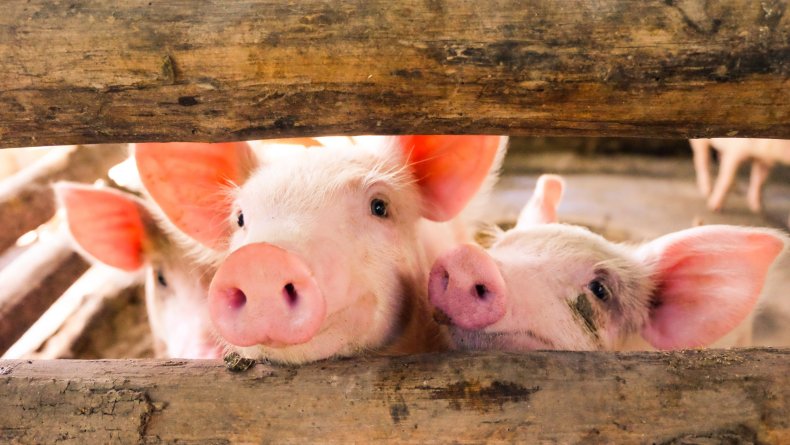 Many commenters wondered why they would act kindly to the animals that are eventually slaughtered.
"How are u gonna say all that to them and then eat them," @ludlow asked.
"Imagine the life they could have if they were being raised in a sanctuary instead of being slaughtered for food," @cassidy wrote. "This makes me sad."
TikToker @gabrielakk94 wrote, "Yeah I don't usually send those I love to death. You only love the money they earn you."
Some, however, came to the defense of the video and how the pigs were treated.
"People that raise animals for food, still love them, and care for them well," @brandykay9 wrote. "We just keep the mindset that they're for food."
Another commenter agreed with @brandykay9's sentiment.
"My family raised our meat chickens and sheep, we cared for them and spent years protecting the perfect feed and habitats," @marleynaomi08 wrote. "If you bought from commercial gamers [that's] on you, but raising our own animals and eventually killing them is ethical and [respectful]."
Blair Thompson, the farm manager for Warren Wilson College, told Newsweek the farm is guided by several principles, including animal and human welfare. He said staff and students want to ensure they are all given respect and care. Part of care includes communication and affection.
Thompson explained that all animals, including the pigs, are given the opportunity to express a full range of behavior and emotions.
And, while slaughter is a part of the process, Thompson said they try to make it as non-traumatic as possible.
"We try to be respectful all the way through," he said. "A thriving farm and ecosystem have life and death cycles."
That respect is important to the farm.
"Why treat an animal worse, even if you're planning to eat it?" Thompson asked. "We're trying to honor its life and be mindful of what you owe it."
Newsweek reached out to @fisshsouup for further comment.
Updated 02/22/2022, 12:58 p.m. ET: This story has been updated with comments from Warren Wilson College farm manager Blair Thompson.