Viral Crocodile Video Shows How Funny the Animals Look Underwater
A video of a small crocodile floating in a tank has gone viral on Twitter, amassing more than 8 million views as social media users share their delight at how the reptile moves underwater.
The juvenile saltwater crocodile can be seen in the tank with only its head above the water. Under the surface, its limbs are spread out and it gently lowers its tail so it is floating in a vertical position.
Twitter user @xoHaliii posted the video on Monday with the caption: "I seen how crocodiles look underwater and I can't stop laughing."
The video has been watched 8.3 million times on Twitter. The tweet has also been shared more than 120,000 times and amassed more than half a million likes.
The clip was originally shared on TikTok by @Animals012 last December and gained more than 6.6 million views on the social media platform. It was shared again that month by TikTok user @Inverse, garnering another 2 million views.
Crocodiles tend to float by spreading out their limbs to keep themselves stable, according to zoologist Adam Britton on his website Crocodilian. They also keep a certain amount of air in their lungs to be able to float at the surface.
Britton told Newsweek: "The only difference [in the video] is the crocodile has its body angled down at a steep angle, which is more common with juveniles and sub-adults.
"The legs are splayed in a classic stabilizing manner, and you can see the belly is enlarged because the lungs are extended toward the belly so pushing the guts into a smaller space. The croc does this with a sheet of muscle similar to a diaphragm. This alters the croc's center of gravity, which is why it's able to hold that angled position easily."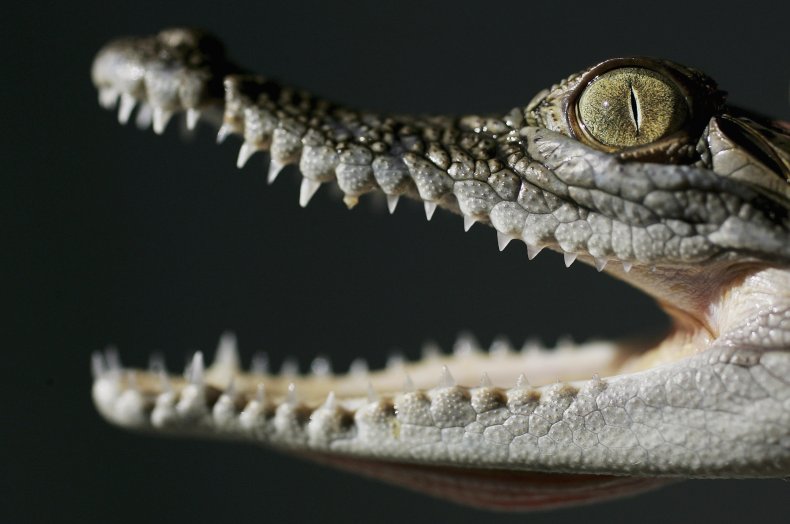 Explaining the viral video, Britton said: "I'm guessing the crocodile's tail was probably pushing it along at the start of the video. Either that or there's a current pushing the croc along while it hangs in the water. They don't magically propel themselves unless the tail or legs are doing some work, except if they're in a current."
When swimming quickly, crocodiles fold their legs back against their bodies and use their tails to propel themselves through the water. A Live Science article says: "Crocodiles are very fast swimmers, which helps them catch their prey. They can swim up to 20mph and can hold their breath underwater for around one hour."
On Twitter, viewers reacted to the video by sharing jokes and memes.
Many said they thought the clip made crocodiles appear less frightening. Twitter user @JustSomeLuhBoi posted: "We be scared af seeing crocs/gators in the water and the whole time they enjoying themselves and saying 'weeeeeeeeeeeee'"
Twitter user @simply_lay_ said: "This why movies only show their head."
Others compared the crocodile's relaxed position to floating in a pool. Twitter user @ryanrussoTS said: "me in one of these," alongside a photo of a lazy river.
Not everyone found the video adorable, however. @Adwoa_Naii shared a nervous Squidward meme with the comment: "Yeah I'm still scared..."