Golden Labrador Is Hilariously Scared of Lion Statue on Walk: 'Brave Boy'
A Labrador named Leo has melted hearts across the internet after appearing frightened of a lion-shaped garden statue in a TikTok video viewed more than 650,000 times.
The now-viral clip posted on January 21 by @LeoTheLab87 features the reddish Labrador walking confidently up a street, until he catches sight of a small lion statue at the doorstep of a house.
Leo then hesitates, looking noticeably fearful of the ornament, and circles back round to his owners.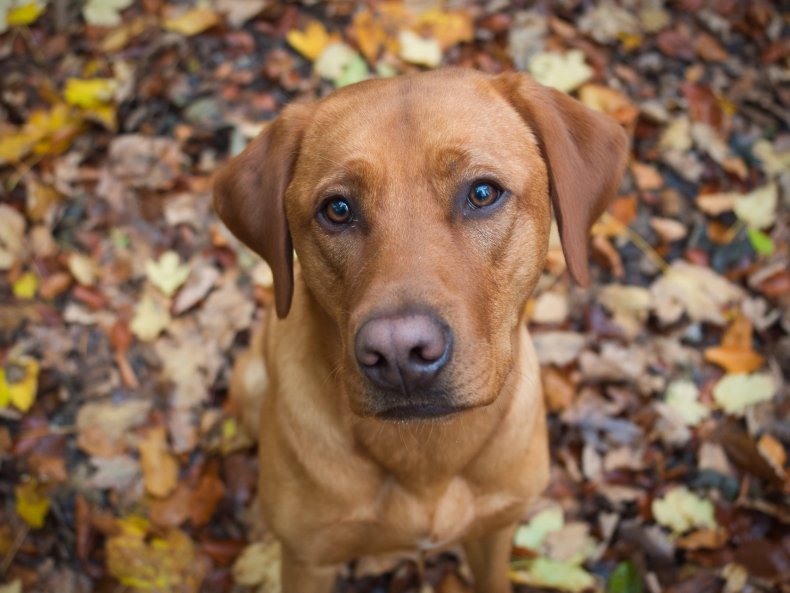 According to The Humane Society, it's more common for dogs to experience fear, especially if such anxiety stems from a genetic predisposition. However, the animal welfare organization does write that fearful traits are more common or likely to occur in pets who have suffered abuse or trauma at a young age.
The organization cites appearing depressed, trembling, cowering, yawning, pacing, lunging at other humans or animals, growling and barking as being recognized signs of fear or distress in dogs.
"If your dog demonstrates any of these behaviors, don't force them to interact with whatever it is that's causing their fear," The Humane Society advises.
The animal welfare organization adds: "Dogs learn from positive association. The best way to help a shy or fearful dog gain confidence is to expose them to what frightens them at a low intensity. Pair this exposure with something positive, like a tasty treat. This is called counter conditioning and desensitization."
When this is done properly, it can help make the pup feel comfortable around the person, animal or object that was triggering them.
After receiving a bit of moral support from his owners, the panicked Labrador in the TikTok video then scurries off down the street.
The footage first shows Leo bracing himself to run cautiously past the statue, at a distance and with his tail lowered.
The account on which the video had been posted appears to that of Leo's owners, and the viral post has become their most popular video to date. He features in almost all of the profile's previous posts, and the account looks to be dedicated to capturing the Labrador's growth and funny antics.
The video has been hilariously captioned: "I'm a big brave boy, I'm not scared of anything."
"Such a good doggo," one TikTok user commented underneath the post, with another adding: "The way he looks at you when you laugh and his embarrassed lil' smile."
A third TikTok user wrote under the post: "The best part is that he saw you laughing and then was like, 'Weird, but I guess it's okay then'."
"In his defense that came outta NOWHERE," another added.
Newsweek reached out to @LeoTheLab87 for comment.
Do you have funny and adorable videos or pictures of your pet you want to share? Send them to life@newsweek.com with some details about your best friend, and they could appear in our Pet of the Week lineup.