Fact Check: Is the Viral Alfredo Rivera Flight Attendant Interview Real?
A video purportedly showing a flight attendant named Alfredo Rivera talk about taping a disruptive passenger to their seat has accrued more than a million views on social media.
The Claim
Amusing footage of a man captioned as flight attendant Alfredo Rivera describing an altercation with a passenger is spreading across social media. He is presented as giving an interview to a local news station about the incident.
It comes after reports of a man being arrested on a Frontier Airlines flight. Footage of the incident, which also appears in the purported interview video, shows a passenger throwing punches at flight attendants before he is restrained and taped to a chair.
Many social media users are sharing what they believe to be a real interview with Rivera.
In one such example, the writer Gabe Hudson shared the video on Twitter, writing alongside: "Flight attendant Alfredo Rivera tells wild ass story of duct taping that crazed passenger on plane."
Hudson later followed up: "Just learned this is a comedian & not actual flight attendant (still recommend)."
The Facts
On August 2, Local 10 reported on footage of a man becoming violent on a flight and that he was subsequently duct-taped to a chair.
It reported that a 22-year-old man named Maxwell Berry, of Norwalk, Ohio, was arrested following the incident. The New York Times and The LA Times later reported that police charged Berry with three misdemeanor counts of battery.
According to Local 10, the arrest report alleged Berry had been drinking on the flight from Philadelphia to Miami. He was accused of groping two female flight attendants' breasts and alleged to have attacked a male attendant.
Newsweek has contacted the Miami Dade Police Department for comment.
Frontier Airlines initially said in a statement the attendants involved would be "relieved of flying pending investigation," Local 10 and CNN reported.
In further comments to Newsweek, a Frontier spokesperson said: "During a flight from Philadelphia to Miami on July 31, a passenger made inappropriate physical contact with two flight attendants and subsequently physically assaulted another flight attendant. As a result, the passenger needed to be restrained until the flight landed in Miami and law enforcement arrived.
"Frontier Airlines maintains the utmost value, respect, concern and support for all of our flight attendants, including those who were assaulted on this flight. We are supporting the needs of these team members and are working with law enforcement to fully support the prosecution of the passenger involved. The inflight crew members' current paid leave status is in line with an event of this nature pending an investigation."
Another passenger, named Alfredo Rivera, filmed the incident. An image of the incident shared by Reuters credited him.
He was interviewed by Local 10, telling the outlet: "[Berry] started to get aggressive and basically attack the male flight attendants."
Following this, a separate supposed interview with Rivera went viral. However, it was not the Rivera in the Local 10 news report.
In this mocked-up video, Rivera is described as a flight attendant and animatedly describes the incident.
One post of the video on Twitter has 1.4 million views at the time of writing, and was posted with the caption: "Alfredo Rivera is the greatest storyteller of our time."
Piers Morgan, formerly a CNN host in the U.S. and a presenter on Good Morning Britain in the U.K., was among those to share the clip. He wrote: "This is utterly fantastic. We need more people like Alfredo in the world."
As the video has spread, many have interacted with it as though it is a genuine news report.
One user wrote: "I've never heard of Frontier Airlines, but I'll book a flight to just about anywhere immediately if it means I can have this gentleman as my flight attendant!"
Another said: "I would be more than happy to have this gentleman attending any or all my future flights."
However, the person in the video is a comedian who goes by the name of The Real Spark. In his video, real news footage is spliced with the comedic report.
In The Real Spark's section, YouTube and Instagram logos highlighting his user name can be seen.
A Frontier spokesperson told Newsweek: "Indeed, this is a comedian and not really a Frontier flight attendant."
The Real Spark also shared the video on Twitter and YouTube. They posted the footage, originally from TikTok on the platform on August 5.
In the video, they recounted the incident, with some details similar to those from reports and the footage. They said: "We wrapped him up, better than any Christmas present you ever seen."
This footage has received more than 500,000 views on Twitter at the time of writing. On YouTube the video has had more than 1.2 million views.
The Real Spark has done several other similar parody news interviews.
These have accrued millions of views on YouTube.
Newsweek has reached out to The Real Spark for comment.
The Ruling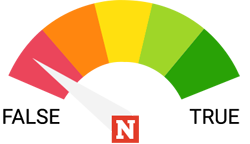 False.
FACT CHECK BY NEWSWEEK
While there was an incident on a plane similar to that described in the viral news report video, the person in the video is a comedian—not a flight attendant nor the actual Rivera who captured the original footage on the plane.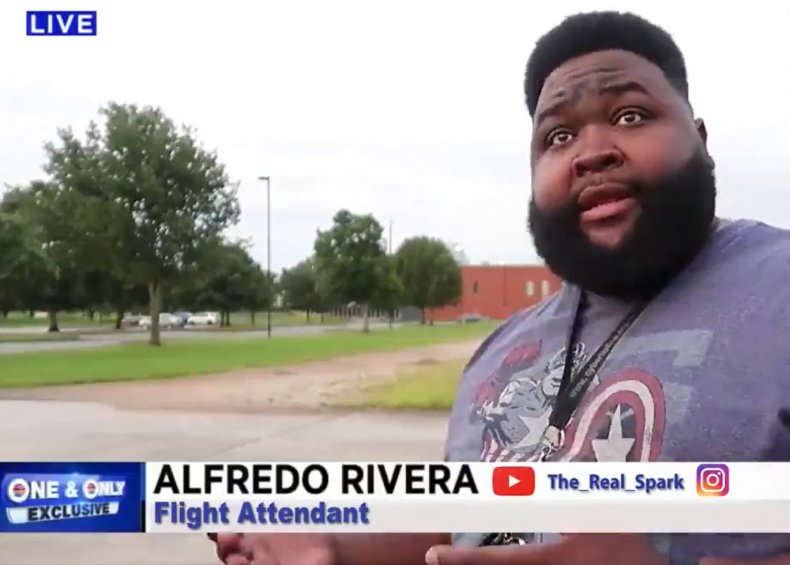 Update 08/06/2021, 10:45 a.m. ET: This article was updated to include further comment from a Frontier spokesperson.