Viral Gift-Wrapping Tip Video Wins the Internet Just in Time For the Holidays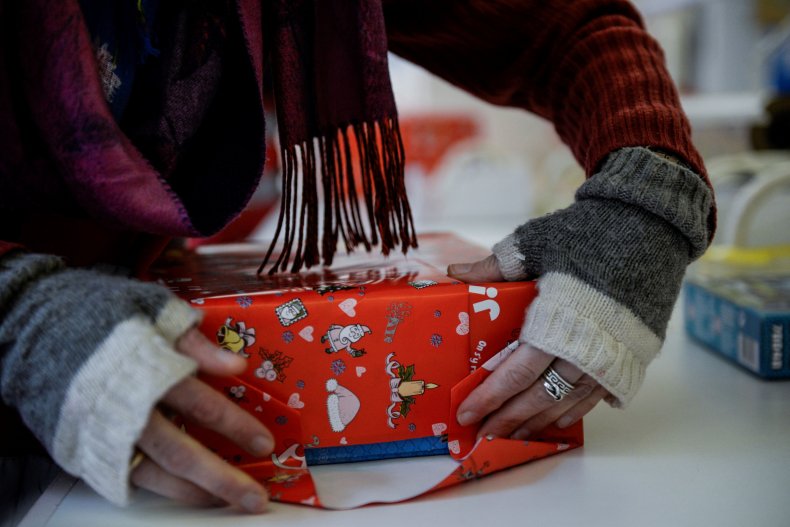 It's a simple trick that many social media users lamented they hadn't thought of sooner. Now—if the number of likes and shares on Twitter are any indication—millions of people may change the way they wrap gifts this holiday season and for years to come.
Since Sunday, a 7-second video that originated from the Twitter account @BlossomHacks has been circulating on Twitter that demonstrates how one can get past a seemingly intractable problem that may arise when wrapping Hanukkah, Christmas or Kwanzaa gifts: Wrapping paper that's been cut for the gift isn't big enough.
The solution? Don't throw out the wrapping paper. Just rotate the gift diagonally so that the paper can be fully wrapped around it.
Twitter user Chuck B, who goes by the handle @chUckbUte, appeared to have been one of the first people to share the video on Twitter, which he shared around noon on Sunday. By noon Monday, his video had accrued 15,700 retweets and nearly 60,000 likes. Just short of 3 million people had viewed the video.
"You've got to be kidding me," the user wrote. "After all these years…"
Accounts with larger followings began retweeting the video, including that of British book retailer Waterstones and musician-playwright-actor Lin-Manuel Miranda, famous for creating the Broadway musical Hamilton. By 11:30 ET on Monday, the combined tweets of Miranda and Waterstones had 60,000 likes and 10,700 retweets.
Some users were in awe, with some even joking that the video depicted some kind of wizardry, as if an occult hand had magically made the gift smaller and easier to wrap.
"I'm not buying it," wrote user @CanucksIn4. "It's witchcraft I tell you. Witchcraft."
Others bemoaned that they hadn't saved time by turning their gifts diagonally during previous holiday seasons.
"How, in the name of all things holy, did I not know this?" wrote user @MRileyWalker in response to Miranda's tweet.
"Many wrapping papers gave their lives to my ignorance," was the simple, solemn response of @CamilleLarou.
Actor Willie Garson tweeted that turning the gift diagonally to wrap it was the "first thing they should have taught us in geometry."
Yet, a picture still says a thousand words, and the most eloquent responses to learning the gift-wrapping tip may have been those communicated via GIFs, like that shared by @shxmiola in response to the tweet from Waterstones.
After Newsweek contacted Chuck B to ask where he had found the video, the user replied that he had found it on either Reddit or the image-sharing website, Imgur. Searching both websites for the source of the video—including the subreddit r/Wrapping, which is entirely dedicated to sharing inventive ways to wrap gifts—was to no avail.
However, a perusal of the internet found that diagonal gift-wrapping has cropped up in the collective conscious of the internet before. In 2018, Reddit users widely circulated a clip of the technique from a YouTube video called "Life-Changing Gift Wrapping Hacks" from the channel But First, Coffee across numerous subreddits, where it received hundreds of thousands of upvotes. The original video, uploaded in 2017, had received 27 million views as of December 16.
This article has been updated to include information from Chuck B confirming that the account @BlossomHacks is the original source of the content.