Viral Photo of Hong Kong Protestor Sparks Tiananmen Square Comparisons
A dramatic viral photo of a Hong Kong protester has sparked comparisons to the iconic "Tank Man" picture captured during the Tiananmen Square protests in Beijing in 1989.
Snapped by photographer Lam Yik Fei on assignment for The New York Times, the Hong Kong image shows a police officer in riot gear pointing his revolver at an unarmed man in the middle of a street. The man has his arms outstretched, and is holding an umbrella in one hand.
The photo was taken during clashes between police and protesters in the Tsuen Wan area of Hong Kong on Sunday evening, during which one officer reportedly fired a warning shot into the air. It was the first use of live ammunition since the latest wave of protests began around 12 weeks ago, the Hong Kong Free Press reported.
During the melee in Tsuen Wan, a crowd of protesters armed with sticks and rods charged at a small group of officers, who fought back before retreating and drawing their weapons, The New York Times reported. Video footage of the encounter shows one officer then pointing his firearm at a middle-aged man in a tank top at the head of the crowd of protesters.
The unnamed protestor can be seen kneeling down, apparently begging the officer not to shoot, before the policeman kicks him and retreats again.
The person kicked by the officer is believed to be the individual featured in Yik Fei's' photo.
Previously, police have used tear gas and plastic bullets on protesters in the area, who were reportedly throwing bricks and firebombs, according to the Times. Water cannons were also used for the first time, marking an escalation in violence after a two-week period of relative calm.
The situation in Tsuen Wan came after a peaceful march of than 10,000 demonstrators earlier in the day.
"I don't totally agree with what students do now, such as throwing bricks," Celine Wong, 38, a nurse who was part of the march, told the Times. "However, what they do is eclipsed by the violence performed by the government now."
Another Tsuen Wan protester, Rory Wong, said that some demonstrators were resorting to violence because peaceful demonstrations had not made any impact on the government. "The escalation you're seeing now is just a product of our government's indifference toward the people of Hong Kong," Wong told CBS News.
Police in Hong Kong have defended their actions, saying they were justified in drawing their weapons.
"Six officers drew their service weapons because their lives were under threat... to protect themselves, other officers and people at the scene. One officer fired a warning shot into the air, which did not hit anyone," Senior Superintendent Yolanda Yu told reporters on Monday.
Yu added that it was a "natural reaction" for the officer who had his gun pointed at the man in the tank top to kick him.
Police report that 36 people between ages 12 and 48 were arrested during Sunday's protests. Health officials say that 38 people were hospitalized, with one in serious condition, while 15 police officers were treated for injuries.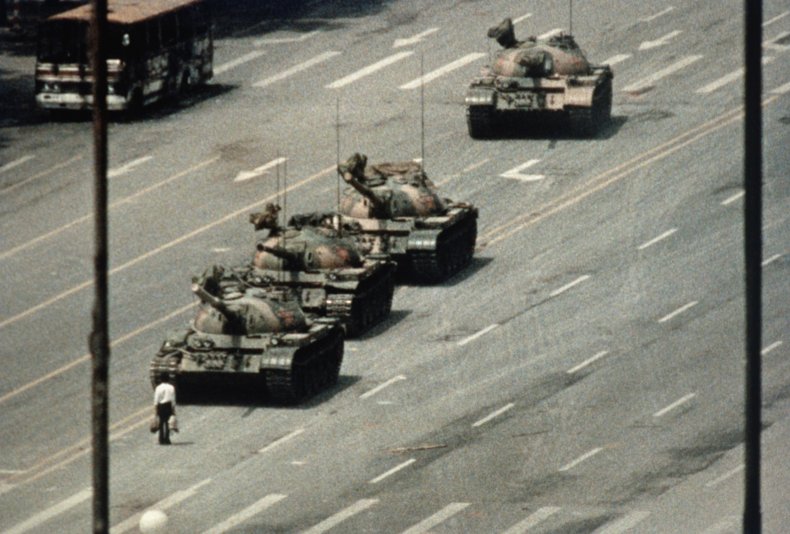 Many online compared Yik Fei's photo to the iconic "Tank Man" picture from 1989, in which an unidentified Chinese man stands in front of a row of tanks during the Tiananmen Square protests in China. Anywhere between a few hundred and a few thousand people died during the Tiananmen protests—sometimes referred to as the '89 Democracy Movement—as a result of a Chinese military crackdown.
"This could be the next iconic picture like the one from Tiananmen Square," one Reddit user said.
"Reincarnation of Tank man from Tiananmen," another wrote.
The ongoing protests in Hong Kong were originally sparked by opposition to a controversial bill allowing extradition of citizens to mainland China. However, the demands have now grown into wider calls for expanded democracy in the territory, considered a "Special Administrative Region of the People's Republic of China."