Viral Image Shows Trump Volunteer Blocking Photographer Taking Picture of Protester at Indiana Rally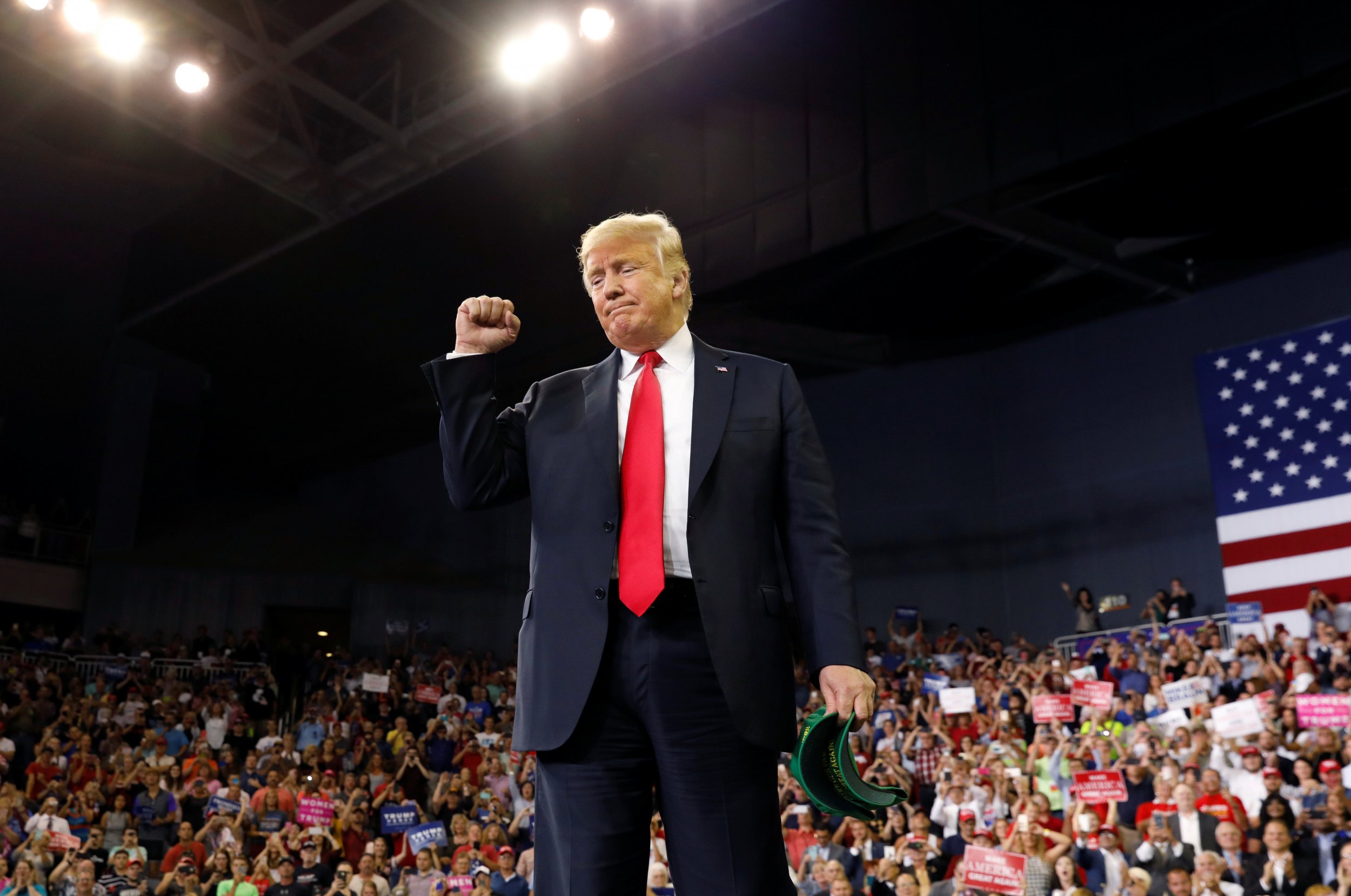 A viral photo has emerged showing a volunteer for President Donald Trump's advance team blocking a photojournalist from taking a shot of a protester during an Indiana rally.
Associated Press photographer Evan Vucci was attending the Evansville campaign rally on Thursday night when he snapped a shot of the volunteer—dressed in a blue suit—who used his hand to block the camera of a photographer attempting to capture an image of a protester.
The protester disrupted Trump's speech and was led out of the building. She reportedly pulled her middle finger at the crowd before leaving the rally.
After Vucci shared the image on social media, several journalists retweeted it, with some criticizing Trump for condemning political censorship while practicing it.
"Trump: 'We as a country cannot tolerate political censorship! We are not going to let them control what we see!'" Christina Wilkie, a White House reporter for CNBC tweeted. "Only moments before, a Trump aide had physically blocked the lens of a press photographer to prevent him from taking a photo of a protestor."
"America in 2018, apparently," Bloomberg White House reporter Jennifer Epstein wrote, alongside a closeup image of the volunteer's hand on the camera.
On Thursday, the president made an appearance at the Indiana campaign rally to boost support for Republican Senate candidate Mike Braun, who is facing off against Democratic Sen. Joe Donnelly in a heated Senate race.
During his speech, Trump urged votes to unseat Donnelly by claiming that the Democrat is "not going to vote for us on anything."
Braun also took the stage and vowed that he would be a "true ally" to the president. "Not somebody that says something when you're in Indiana and does something different when you're in DC," he explained.
In a statement released after the rally, Donnelly said: "We're always happy to have President Trump in Indiana, but Hoosiers still want a senator who always puts them first before any politician or political party."
Braun, who is a wealthy Republican businessman, met with Trump at the airport in Indiana yesterday. The president then attended a fundraising event and private roundtable before heading to the rally.