Viral Missouri Jail House Real Estate Listing Ignores an Important Part of Its Past
A wild real estate listing has gone viral for some super niche amenities you've probably never seen in a home before. The 1875 build, located in Fayette, MO, is connected to a fully-functioning jail, complete with nine jail cells.
Naturally, netizens who love creepy finds are eating up the listing and all of the possible stories from its past. But let's not to be naive. While it's incredibly fun to think of a spooky, haunted prison connected to an old house (seriously-—this is the stuff horror novels are made of) we owe it to ourselves remember who was most-likely being imprisoned there in the years this prison was in operation.
The house, which is located at 203 E Morrison in Fayette, acted as the Howard County prison from its conception in 1875 to 2004. Yes, 2004: the year some of us listened to "My Happy Ending" by Avril Lavigne on repeat.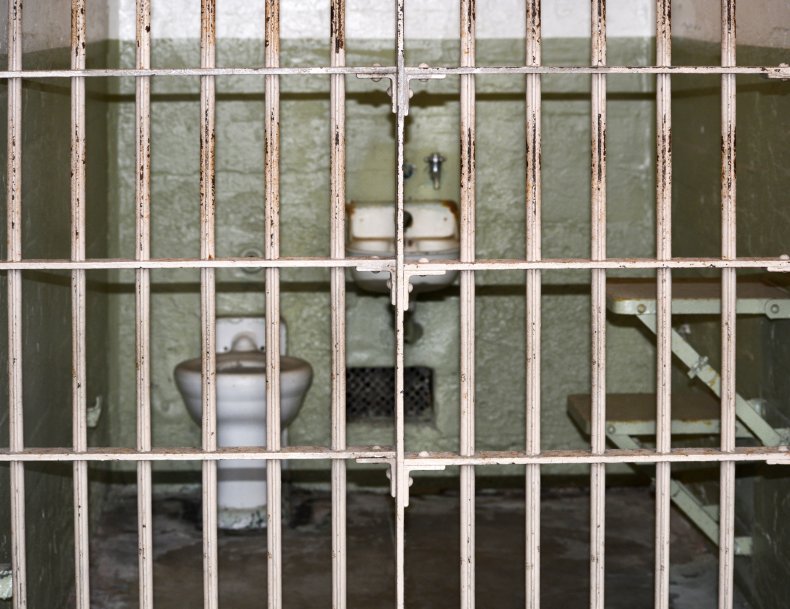 According to the Howard County Sheriff Office website, the jail operated with a 10-person capacity and did not accept women as prisoners. The Sheriff, for most of the jail's history, lived in the connecting house and was responsible for watching, feeding and caring for all imprisoned inmates. The jail was equipped with gallows, too, but the Sheriff's website claims there's no report of a hanging ever taking place on the property.
It took the birth of a new jail and immediate construction of the modern structure, starting in 2002, for 203 E Morrison to become just a home with an unsettling past.
So how unsettling was it, really?
Missouri was one of the northernmost confederate states, and while all slaves were technically freed in 1865, racism from white communities and the government didn't end then. Like many states around the country—even Union states—many of the prisoners kept in the jail connected to 203 E Morrison were Black Americans.
Some of the inmates kept in this jail were arrested for breaking Jim Crow Laws, a set of anti-Black rules designed to continue to segregate white people from Black people. Jim Crow laws went into effect between 1877 and 1960 according to Ferris State University, a timeframe greatly supported by the jail infrastructure at 203 E Morrison.
Some of these Jim Crow Laws required Black and white patrons to be kept separate in public settings. Others saw love between people of different skin colors as a crime. Missouri's laws, in particular, listed that: "All marriages between...white persons and negroes or white persons and Mongolians...are prohibited and declared absolutely void...No person having one-eighth part or more of negro blood shall be permitted to marry any white person, nor shall any white person be permitted to marry any negro or person having one-eighth part or more of negro blood," according to the National Parks Service.
Even today, Missouri has been criticized for promoting biased interactions and laws. The rate of incarceration for Blacks was three times higher than white Americans. The state's attorney general found that Black Americans were pulled over for driving violations 91% more often than white Americans were in the state. In 2017, The NAACP declared that Missouri was a potentially unsafe state to visit as a minority. It came just a few years after Michael Brown, a Black teenager, was shot and killed by a white officer in 2014. The officer, Darren Wilson, wasn't charged for Brown's death: a decision made just this year.
The once-functioning jail is actually serving as a selling point of the home, though. After going viral, realtor Justin Radel told Newsweek 203 E Morrison has received a "flood of inquiries" and could have a list of final offers in the next seven days.
He said most inquiries have been thrilled by the uniqueness. "99 percent of the comments have mentioned how cool and historical this property is," he said. "There's the one percent that's negative comments online." Radel himself did not know of any specific inmates or prison records of the home.
203 E Morrison's recent history showed it acting as an impressive, highly-rated Airbnb. Commenters shared rave reviews on the Airbnb website and most noted the jail as a lead selling point.
One former overnighter even posted a video of the jail tour on Twitter.
The history between the American police and Black people being used as a real estate selling point feels odder than ever in 2020. But perhaps it is that history which truly makes this home different from anything else on the market.
It's very likely many people who are entertained by the listing simply don't realize the jail featured in the home was actually a working jail, and a working jail up until 2004, nonetheless.
So while we can all appreciate the fact that there is definitely reason to gawk at the unusual listing that puts every House Hunters binge to shame, we can still show respect for the past—and the people who have been unjustly punished simply for existing.