Woman Rejecting Brother's Wedding Invite To Be Friend's Bridesmaid Cheered
To be or not to be a bridesmaid is the question for one woman, who is torn between her friend's and her brother's weddings.
In a viral post on the popular discussion site Mumsnet, "WeddingsChoice" shared her story, which has since received over 266 responses since Wednesday.
She was asked last year to be a bridesmaid at her friend's wedding, she explained, and her eight-year-old daughter has been asked to be the one and only flower girl. She described the friend as more like a "sister"—they are always each other out.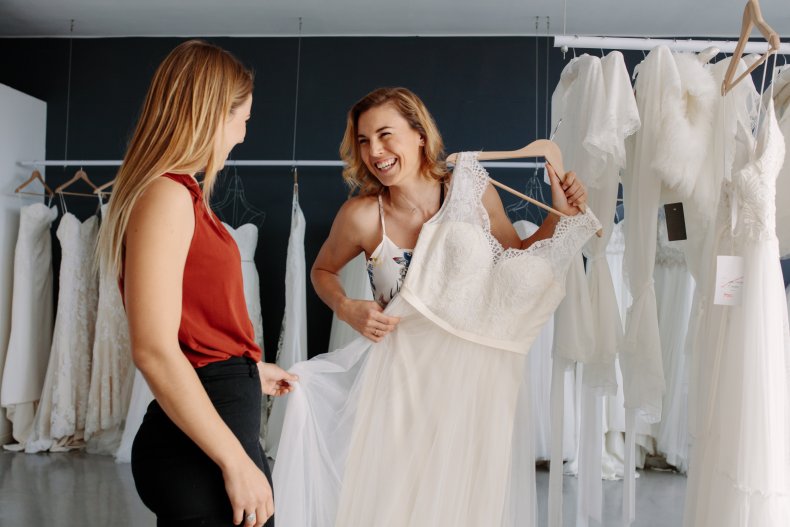 "She's even introduced me to people as her other sister," she wrote. The woman pointed out that their absence would be "noticeable," as there's only one other bridesmaid scheduled to attend.
"My brother got engaged last week and told me the date of the wedding this morning[,] the same date as my friend's. I've told him I couldn't make that date due to my friend's wedding, the date has been on the shared family calendar since last year when we were asked to be bridesmaids and flower girl," she said.
"We're not part of the wedding party at all for my brother but obviously, my parents, grandparents, and another family will be there and notice if we're not," she continued.
The Mumsnet user said her brother told her to prioritize his wedding and cancel on her friend. "My parents have got involved and told me that I absolutely have to be at my brother's wedding and they will 'never forgive me' or help me out with childcare again if I don't go."
"My brother and I are usually close, chat most days and I love him. But I also love my friend and she's been there for me at times my brother couldn't be—due to it being women's related, him working, my friend happens to be there when needed. I've also been by my friend's side for important life events and she'd say so," she explained.
In the comments, the original poster mentioned that the bridal party dresses hadn't been purchased, but were due to be fitted next week, meaning her friend wouldn't be at a financial loss if she declined.
Swarming to the comments, 90 percent of users voted that she attend her friend's wedding as opposed to her brother's to avoid letting her daughter down, too.
One said: "Your brother has been engaged less than a week and you have committed to being bridesmaid and your daughter to be the flower girl for your friend. You honor your commitment to your friend.
"If your brother was genuinely interested in you being at his wedding he should have checked the date with you. Your parents are being ridiculous as well by the way."
Another agreed: "Given that your family sounds so unreasonable I would cheerfully go to the friend's wedding and not give them a second thought. Honestly, the more I read on Mumsnet about other people's families, the more thankful I am for mine!
"You have accepted roles at your friend's wedding and are very close—there is no contest. Family does not always come first."
A third said: "When I read the title my initial reaction was, of course, go to your brother's wedding but on actually reading the details I think he's being very unreasonable and you should go to your friends.
"Checking the date with family before booking is common sense and curtesy. Your brother has just got engaged and should move his date. It's outrageous that your parents are using childcare as emotional blackmail."
In 2021, the average guest size per wedding was 105 people, and the average cost per guest was $266, bringing the total cost $28,000, according a wedding study by The Knot.
The wedding planning website's research also shows that couples spend an average of six hours per week when wedding planning, and 49 percent of people go over their initial budget.
If you have a similar family dilemma, let us know via life@newsweek.com. We can ask experts for advice, and your story could be featured on Newsweek.