The Viral Photo Campaign That Reveals What It's Like to Be Black at Harvard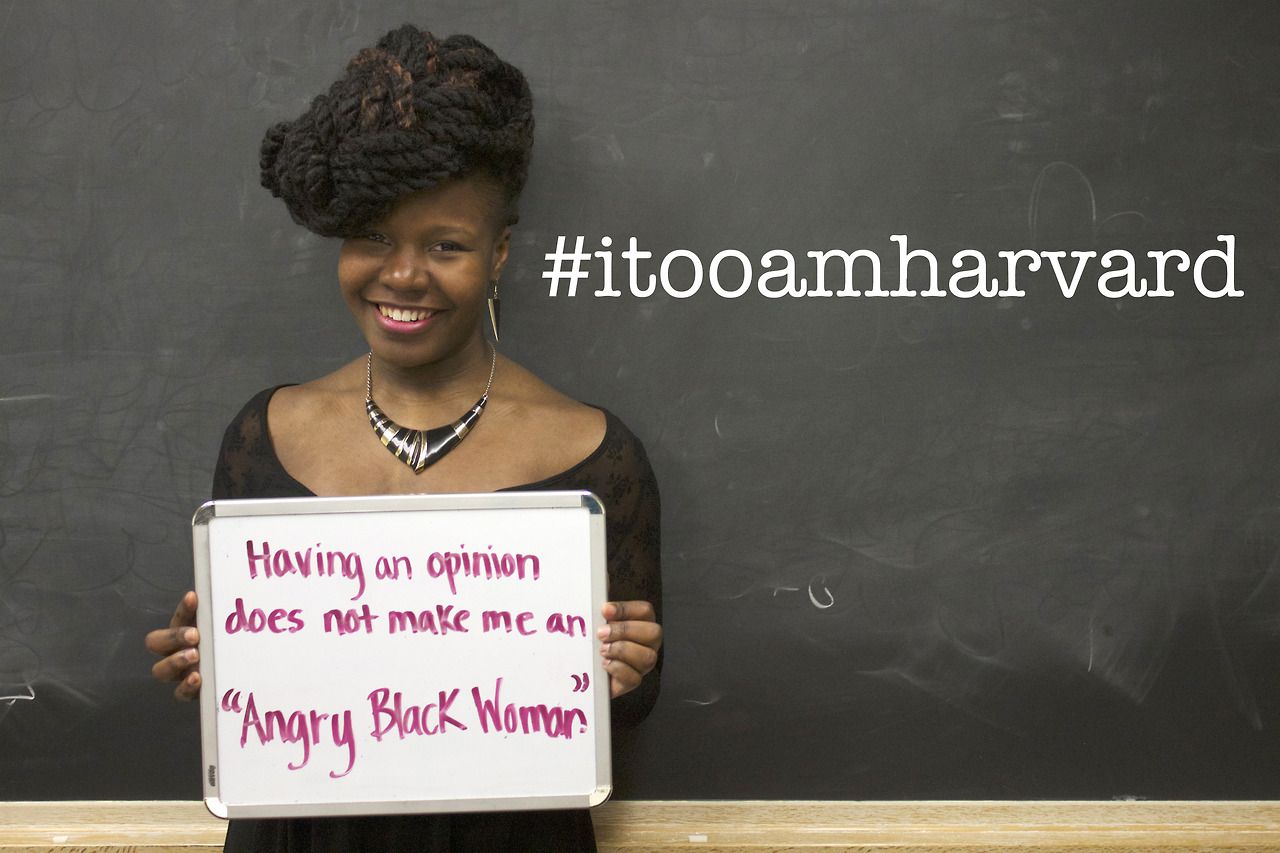 "You don't sound black… You sound smart." "You're the whitest black person I know." "You're dressed like you might shoot me right now."
Those are several of the brazenly racist comments black undergraduates report hearing at Harvard. They are also the captions on display in a powerful photo campaign that highlights those frustrations prominently around campus, where they can't easily be ignored.
The project is called "I, Too, Am Harvard," or #itooamharvard, as it's been hashtagged in social media and on the photo displays. The student who masterminded it, Kimiko Matsuda-Lawrence, says it's in advance of a theatrical performance of the same name that she is directing this weekend.
According to Matsuda-Lawrence, a sophomore, the idea arose out of conversations about racial dynamics on campus, particularly in the wake of a widely criticized Harvard Crimson op-ed on affirmative action.
"People were talking about their experiences with being a black student on Harvard's campus and being made to feel like you don't belong, feeling like you're at Harvard but not of Harvard, feelings of always being the other, being the only black person in your dorm or a class, or being looked to for the black perspective," Matsuda-Lawrence told Newsweek.
After those discussions, Matsuda-Lawrence embarked on an independent study that entailed interviewing 40 students of color about their experiences. Now she has seven other students working with her.
"There was this great diversity of experiences of blackness, but also this great commonality of this feeling of not always being valued on this campus," she said. "Feeling like you don't fully belong or have ownership in the way that white students can."
Glenda Carpio, the faculty member who supervised the study, told The Boston Globe that Matsuda-Lawrence's work "challenges assumptions that questions about identity are anti-intellectual."
But the public campaign has extended well outside the borders of Cambridge, racking up thousands of Facebook shares and inspiring messages of support from other schools, both inside and outside of the Ivy League. It also invites comparisons with #BBUM, or "Being Black at the University of Michigan," a similarly digitally minded social justice campaign that was set in motion after a "Hood Ratchet"-themed party took place at the Ann Arbor campus.
"It's just a movement of black students rising up all over the country, saying, 'We are here and these places are ours and we worked just as hard to be here and no one is going to question us,'" Matsuda-Lawrence said.
Below are a sample of the photos, which initially appeared on the project's Tumblr.