Viral Photo of Detroit Firefighters Posing In Front of Burning House Sparks Backlash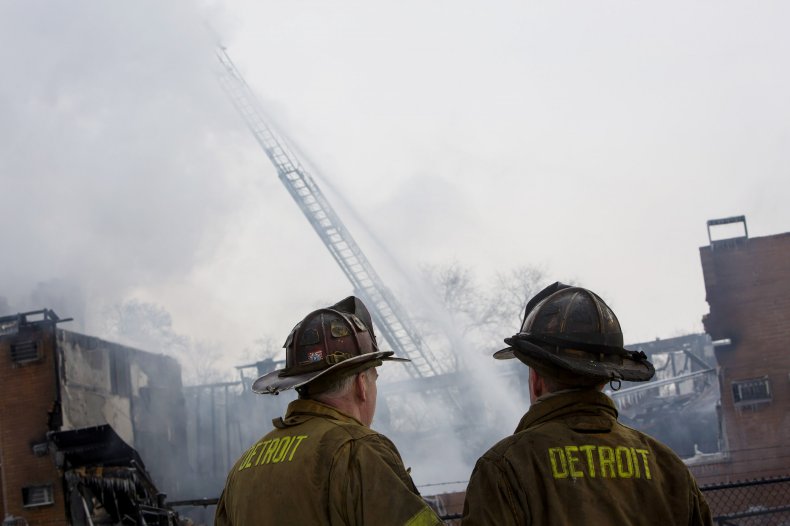 The Detroit Fire Department and a number of its firefighters have received severe backlash after being featured in a viral photo, posted to Facebook, showing the firefighters posing outside a burning house.
The photo was posted to the Detroit Fire Incidents Page on Facebook but has since been deleted. Despite the photo being deleted, WXYZ.com was able to make a screenshot, which shows a group of firefighters posing in front of a house that is up in flames, with a caption that read, "Crew takes a moment to get a selfie on New Years!"
While the picture was still up on Facebook, it received a number of comments, with many of them critical of the fire department. The Detroit News was able to obtain some of the comments written under the photo, prior to its being deleted.
"I hope that was a staged fire," one commenter wrote. "I'd hate to think my firemen [were] posting pictures while a real house was burning."
"Way [to] go. Way [to] look professional and this puts a really bad rep on your company too," another commenter wrote.
In a statement sent to WXYZ.com, the Detroit Fire Commissioner Eric Jones stated that the photo was taken in part to celebrate the retirement of one firefighter, but the department has begun an investigation with the potential for disciplinary action.
"There are a lot of ways to celebrate a retirement," Jones said. "Taking a photo in front of a building on fire is not one of them. We will investigate this matter and follow the facts where they lead us. If this photo is verified, discipline will be in order.
Following the backlash and the photo being deleted, the Detroit Fire Department has also posted an explanation as to why the photo was taken.
"In regards to the photo that was removed we would like to clear a few things up," The Detroit Fire Incidents Page wrote on Facebook. "First of us [sic] no one at this page took that photo. Second we were asked to posit it by a fire fighter for the city of Detroit. Third the only reason it was removed is we received messages by guys on the job stating that they had been threatened For the photo being posted."
On Twitter, Brian Abel of WXYZ.com posted a screenshot of the Facebook post as well as a picture of the damage the fire did to the house.
"Here's the house today in SW Detroit," Abel wrote on Twitter. "@detroitfire says the home was vacant. The one next to it as well. Dep. Commissioner Dave Fornell tells me fire crews could not go inside last night and could only defensively attack the fire."
Newsweek reached out to the Detroit Fire Department via email and phone but did not receive a response.