Photo of Florida Teen Praying Over Police Officer Goes Viral: 'A Reminder of God's Constant Love'
The heart-lifting image of a young man praying with a police officer has skyrocketed across social media.
Justine Tucker posted the photo on Facebook, explaining that she and her husband, deputy Cameron Tucker with the Volusia County Sheriff's Office, were dining at Zaxby's in Deland, Florida, when a young man named Juan came over to their table. Juan asked for Cameron's hand in prayer "for his safety and protection."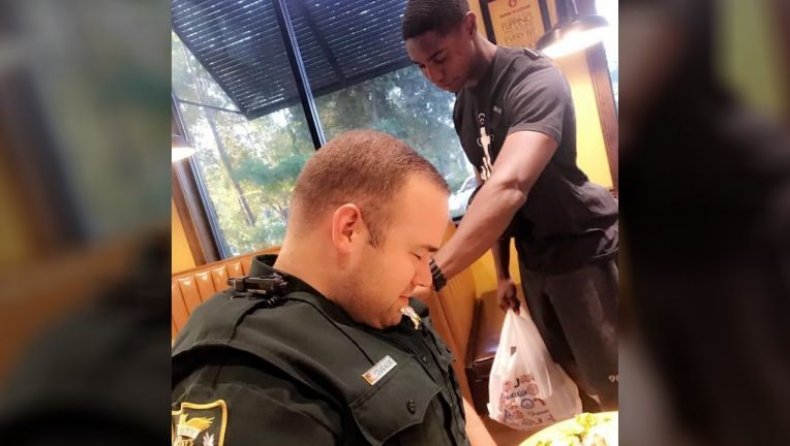 Justine snapped the photo while the two were praying, writing, "after crying my eyes out, we got have an amazing conversation with this gentleman."
"He was on FIRE for God and you could feel His presence in the room, Justine added. "[Juan] said that he had felt compelled to talk to us and to pray over Cameron. #sharethis #Godisamazing #thisisus Volusia Sheriff's Office"
Saying she would never forget the encounter, she said the photo was "a reminder of God's constant love and perfect timing."
Since she uploaded it on Saturday, the post has since been liked by more than 43,000 people and shared more than 21,000 times.
"Thank you, young man, and all of you who pray for anyone but, especially our first responders!" wrote one woman. "My husband has been in law enforcement for almost 25 years and in our world we know the only true protecting we have is the POWER OF PRAYER."
Another called Juan "an angel," writing that "your parents did a lot of things right. God bless our peacekeepers and keep them safe."
The image was also shared on the Sheriff's Deputies Facebook page, which has more than 450,000 followers.
On Wednesday morning, thousands of Christian schoolchildren around the world gathered for prayer rallies before classes stated, as part of the annual See You at the Pole (SYATP) campaign, part of the Global Week of Student Prayer running September 22 to 28.
Launched in 1990, the event has drawn more than a million students across the U.S. and more than 64 other countries, organizers say. Some gatherings include Bible reading and sharing, others are simply silent prayers.
Organizers advised students they have the right to gather for prayer before school, "but it's best to let the administration know ahead of time."
"This has always been something that has been close to me and my heart because I've been able to see the power of prayer and to be able to see when school students get together and surround that flag and be able to pray together, something real significant takes place," King & Country singer Luke Smallbone, who recorded a promo for the event, told Fox News.
Smallbone said he participated in SYATP as a child himself.