Viral Photo Shows Surfer's Close Call With Great White Shark on Massachusetts Beach
Photographer Joe Mault of Orleans, Massachusetts captured a surfer's close encounter with a great white shark on Nauset Beach this morning on camera, and the picture has already reached national acclaim.
The photograph, which has gone viral, was shared by Orleans Natural Resources on Facebook with the following caption:
"A reminder to all beachgoers, as we continue into peak season for white shark activity. At 8:00 AM on Friday 9/20, there was a near encounter with a white shark and a surfer off Nauset Beach. Please remain vigilant."
The picture shows a surfer riding a wave close to the shoreline on a surfboard in a wetsuit and on his stomach, looking over his shoulder to see a shark's fin emerge from the water.
That surfer in the picture has been identified as Devon Zimmerman, who says that he'd only been out on the water for about two minutes when he spotted the fin cutting through the water.
"It was pure shock, and you see literally the moment when I recognize what it is, and my only response is to lift my feet out of the water and drop my jaw," said Zimmerman to WCVB-5 News.
"It made me nauseous," Zimmerman's wife, Sarah McAteer, added in regard to the photo. "It made me sick to my stomach when I saw it."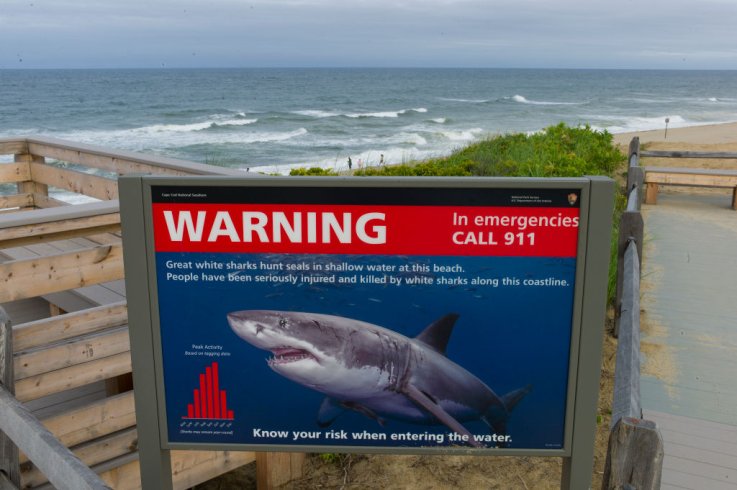 "He very calmly turned around and paddled back in," Mault told WCVB. He added that he had shouted out a warning to the surfer but continued to shoot pictures as Zimmerman continued to paddle toward the shoreline.
Zimmerman's attempt at careful progress was deliberate. "I thought, 'I don't want to splash too much to bring too much attention to myself, but I also need to go very fast,'" he said. He grew up on the west coast, and this was Zimmerman's first encounter with a great white shark.
Physically, Zimmerman was none the worse for wear, and he and McAteer are slated to attend a wedding later this weekend in Maine.
More than 150 great white sharks have been spotted off the coast of Massachusetts throughout the summer months starting in June this year, according to a report by NBC news.
While such sightings are a daily occurrence in the area throughout the warmer months, news of attacks or sharks biting human victims remain rare—the last such fatal attack was in 2019, and the last fatality before that 1936. Many people blame films like Jaws and other depictions of the large fish in mass media for overselling the problem of shark attacks, especially with great white sharks.
Viral Photo Shows Surfer's Close Call With Great White Shark on Massachusetts Beach | News