Viral Photo Shows Why You Should Always Check Your Old Dryer Before You Curb It
One man's trash could be filled with the same man's treasure. A viral photo showed exactly why you should always check your tumble dryer before tossing it to the curb. Metro shared the photo which originally came from Habitat Homestore's Facebook Page in 2019.
The viral image recirculated when the publication recommended doing a thorough sweep on appliances before throwing them out. Because, as the photo itself demonstrates, you never know what you'll find.
In July last year, $144 were found inside a tumble dryer at the Fremont, Nebraska thrift store. "This is why you might want to clean out your dryer before you donate it to the Habitat HomeStore," the thrift store's Facebook post was captioned. "But, Thank You! We appreciate the donation and can use it to help build homes and hope!! #cleanoutyourpockets. #over $100!"
As of publishing, the photo has been shared over 104,000 times.
Folks were blown away by all the cash seemingly hiding away in the recess of the ancient lint catcher. "Everyone saying they are tearing their dryers apart! I wonder how many actually have?" one person pondered. "I love getting free dryers for scrap metal. I ALWAYS pry the back off and shake it. My best haul yet was $13+ in change from 2 dryers," another chimed in.
"Keep the money, but if you have a heart you will return that ponytail holder to its rightful owner. It was probably her last one," a third joked.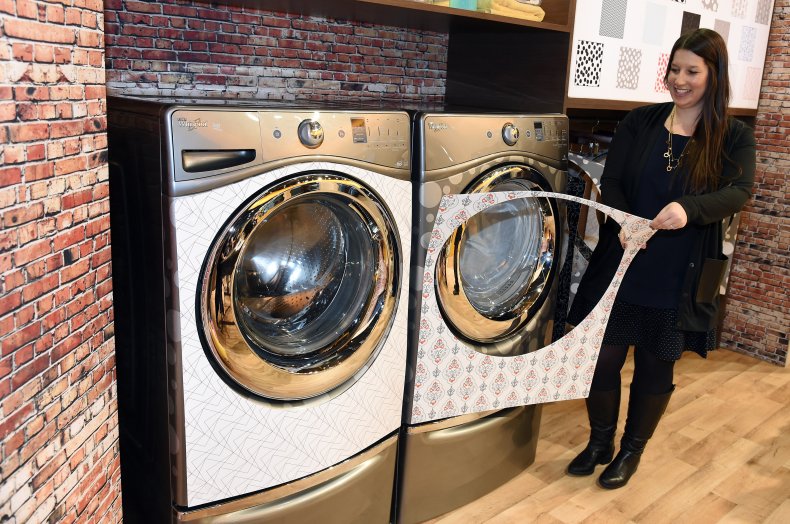 Jerry Getzfrid (a repairman at the thrift store) and Joy McCay (executive director of Fremont Area Habitat for Humanity) told the Lincoln Journal Star about the discovery. At the time, Getzfrid said that he was repairing the machine and took off the front, when all the money just spilled out.
"I took off the front and there was all this money laying in the bottom compartment of the dryer, under the drum," he recalled. "Somehow, this money got out of the airflow system and got down there." Getzfrid said he couldn't believe that he'd 'struck it rich' and all from prying apart an old home appliance.
"I don't know how the money got in there," he added. "It shouldn't have. It's something very unusual." Getzfrid got in touch with McKay immediately, who shared the image on Facebook. He also said that it's not unusual for him to find spare change in these appliances, but finding over $100 was an anomaly.
Despite finding all the money tucked away into the nooks and crannies of the dryer, Getzfrid does not advise folks taking apart their dryer just to find money. "It almost never happens," he said.