Viral Post Appears To Show Ukrainians' 'Thank You' to Poland Amid War
A picture of a group of people said to be Ukrainian refugees who cleaned a park in Poland has been shared on Reddit where it's gone viral. The act of kindness was apparently a gesture of gratitude as Poland is hosting more than two million refugees as violence and unrest continue in Ukraine.
The photo, posted to the subreddit "MadeMeSmile" by Redditor u/irishrugby2015, has received over 94,000 votes and more than 1,000 comments.
"These are Ukrainian refugees after cleaning up a park in Poland as a thank you for hosting them. They're organising these things all over Poland now," the Redditor captioned the image.
Newsweek could not independently verify the source of the image and where exactly it was taken.
Across Poland there has been an "informal movement" of Ukrainians who are cleaning up sidewalks, boulevards, monuments and parks each Saturday for the last month as a way of saying "thank you" to the country, The Globe and Mail reported.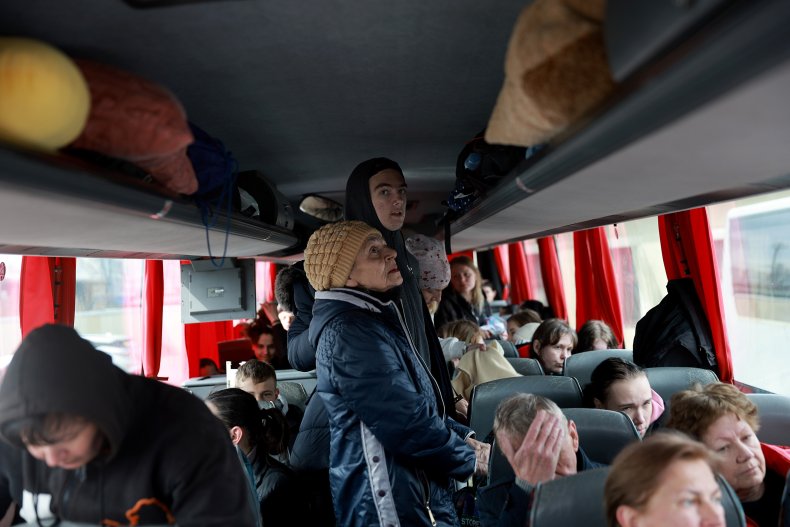 "The impromptu campaign has been dubbed 'subotnik,' a reference to an annual spring tradition in Ukraine when families gather to clean public spaces," the outlet reported. "It started at the end of March, when a group of refugee women in Suwalki, a small city in northeastern Poland, asked local officials if they could do some kind of community service to show their appreciation for all the support they'd received."
The city agreed and on March 26, more than two dozen Ukrainians spent hours removing trash from the city's biggest park and along two boulevards. Now, these acts of community service take place around the country with new locations being added each week, the outlet reported.
In mid-March, the United Nations High Commissioner for Refugees reported that within the first three weeks after the fighting began, Poland had welcomed more than two million refugees from Ukraine.
Many commenters on the viral post felt the gesture was "heartwarming" and a sign of "respect."
"Imagine having gone through being displaced like this and choosing to clean a park and pay it forward. This is so heartwarming," one commenter wrote.
"This is the world I want to live in," said another.
Though some pointed out that the situation as a whole is not one that should be praised.
"To have people leave their homes, forced to other countries, then to pick up trash as a thank you.... thats the world you want to live in?" one commenter wrote.
"Unpopular opinion: They shouldn't have [to]. They should be allowed to feel distressed," another person added. "It is nice that they are doing it. But we should not expect people fleeing from a war be doing this."