Internet Laughs at Rescue Dog's Bizarre Obsession With Fish: 'The 'F' Word'
A rescue dog has delighted audiences across the internet with his love of fishing, appearing in a TikTok video while hunting for fish in a lake.
The now-viral social media post, which can be seen here, shows the rescue pup excitedly hunting for fish after being commanded to do so just with the word "fish."
The pup's owner Halie captioned the video: "We call it the 'F' word [because] we can't say [fish] around him".
The rescue dog's love for fish is pretty evident. In the short video clip, he can be seen enthusiastically wagging his tail at the mere sight of a caught fish, and jumping up to see the fishes inside a fish tank.
According to the American Psychological Association, dogs can learn up to 250 words depending on their individual level of intelligence. While knowing the command "fish" is certainly rare, it's entirely possible for Halie to have trained her rescue dog to come to understand the word and act on it.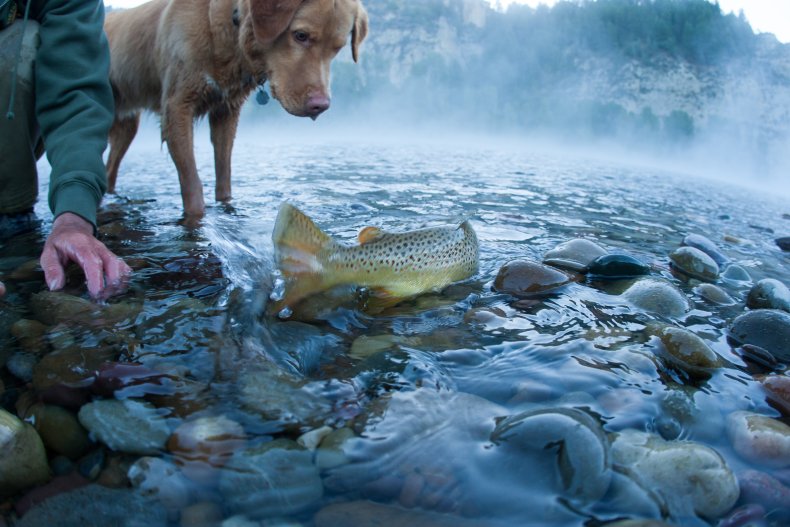 Although he clearly loves fishing, the dog's attempts at the activity are branded as being mostly "unsuccessful" by the video's creator.
It can be determined that the pup's a rescue because the video features a comical line about The Humane Society asking if Halie's even keen to adopt him, purely because of his "obsession" with fish.
What Do the Comments Say?
Since being posted to TikTok under Halie's social media username, @HalieOutdoors, on January 2 the video has been viewed more than 9.8 million times.
The rescue pup's love for fishing has attracted the adoration of numerous TikTok users.
"That is the best fishing partner ever, period," one TikTok user wrote underneath the post.
Another user added: "Just a puppy with a hobby".
"I CANNOT STOP WATCHING THIS!!! I WON'T STOP WATCHING THIS!!!" A third user enthusiastically wrote under the TikTok video.
Halie and her rescue pup appear to be based in Montana and are both firm lovers of all things outdoors. The TikTok account looks to be dedicated to Halie's passion for fly fishing and hiking, as well as being a hub for all of her dog's funny antics.
In previous posts, Halie's pup can be seen running through Montana's many stunning lakes defiantly hunting for fish. One specific post, which can be seen here, shows the dog actively responding to the word "fish."
The American Kennel Club writes that dogs love the smell of fish, and of course, hunting is an instinctive part of a dog's nature, so the rescue pup's love for fishing may not be so unusual after all.
Newsweek reached out to @HalieOutdoors for comment.
Do you have funny and adorable videos or pictures of your pet you want to share? Send them to life@newsweek.com with some details about your best friend and they could appear in our Pet of the Week lineup.