'I'm a TikTok Beauty Influencer Who Was Born Without Limbs'
I was born in Brazil and shortly after, my birth mom found out that my birth father had another family. She lived in a poor area and had three other children and because I had Hanhart Syndrome and had been born with no arms or legs, she knew that there was no chance of her being able to give me a good life. She placed me with adoption services and my story travelled all the way to Utah in the U.S. where my adoptive mom heard it in a grocery store while she was pregnant with her 11th child. My parents are very religious, part of the Mormon church, and they both felt a calling to adopt me.
An airline had heard about the story and said they would fly them and me anywhere in the world to bring us together as a family and the Brazilian courts said they would bypass the residency requirements, so my parents were able to meet me at the airport in Utah.
Hanhart Syndrome affects people differently, some people, like me, don't develop arms or legs, or they have malformed fingers and toes, or a malformed jaw. I also had a cleft palate inside my mouth at the back that wasn't initially seen, which meant I wasn't eating or talking for a while when I was little. But growing up, my mom treated me as she did all her other children. As an adult, I look back and appreciate that so much because the last thing I want is to be treated differently.
All of my 13 siblings and I had chores. We would wake up at 6am, read family scriptures together and then do our chores before school. My chores were to make sure that my bed was made and to stay fit, because I was lifted by others all the time. My parents would have me climb up and down the stairs 20 times in 20 minutes. It really kept me in shape, even though I hated it at the time.
But during elementary school and junior high, I noticed that people were often my friends only when news reporters came around. A lot of kids saw me as the kid in the wheelchair; they didn't think I could go out and play with them.
So when the junior high talent show came around, I decided I would dance without my wheelchair. My mom worked with me for three weeks practicing and I got a huge standing ovation from the entire gymnasium. It was an eye opening moment for me and for my classmates. I wasn't just the kid in the wheelchair, I could do so much more.
I had known I was gay from a very young age. Around second grade I had my first "aha" moment that I liked boys and being a little bit feminine. My parents knew I was gay but they always told me never to act upon it because it was frowned upon in our church. Of course, I had boyfriends secretly during high school.
But it wasn't until I was 19, after a disagreement at church, that I eventually sent my mom long text message saying I was gay and that I was not changing. I told her I had cried myself to sleep because I couldn't be myself at home or tell her and my dad about my dates. I said I was miserable, and that I hated myself. The next day she came in, she'd been crying all night. She apologized for making my life hard and for being oblivious and said she wanted to meet anyone I dated. My dad came in 15 minutes later and said pretty much the same. That day was life changing. We now talk about makeup, boys, fashion and dancing. Our relationship is 100 percent better.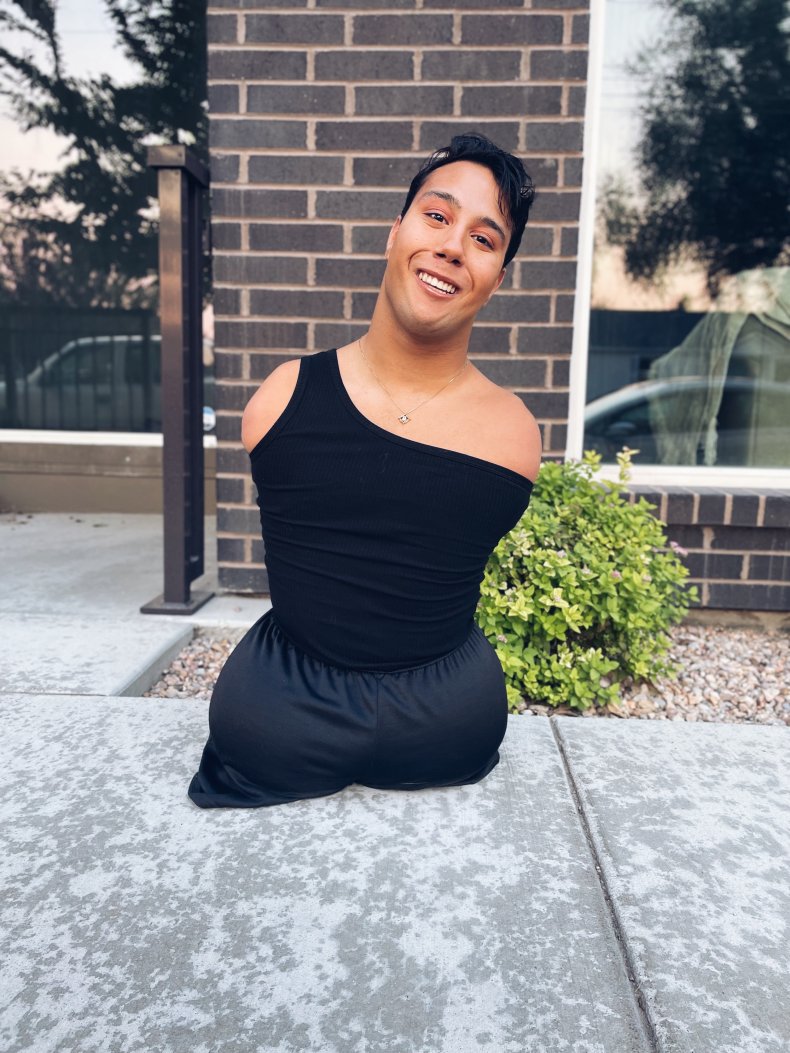 I actually started doing makeup in high school because my dance company needed to wear makeup on stage. It was the perfect excuse. I then bought blush but I didn't know how you were supposed to apply it, so I put it over my entire face. I didn't have a brush at the time, I just smeared it on and blotted it a bit. My brother Landon then said that if I was going to put makeup on I should at least learn to do it right, so I bought brushes online and began to practice.
At first, I would do my make up laying down. I thought it would be the best way for me to blend everything. I would lay a towel onto the ground, put a circular blending sponge down and pat my face down to get the foundation on.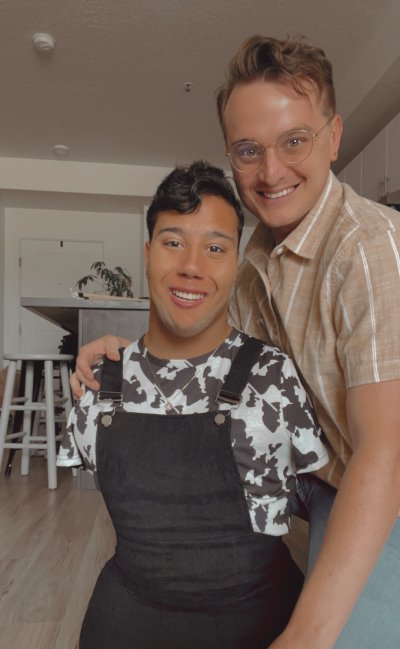 Then I met my husband Adam in early 2020, and after I moved in with him, I would use a shower bench to help me apply my makeup, but it took a while to balance the brushes and the lighting was a bit dark so I'd come out and see my face in another light and think, what is this? Adam then bought me a vanity table and cut the legs down, and bought me a ring light and now I use that every single day.
I had joined TikTok as kind of a joke in 2018 and around Halloween 2019, I made a dancing video. That went viral, which was kind of cool. But I didn't really start doing make up videos until 2020.
In my early makeup videos I was only showing myself from the shoulders up. People were asking why I wasn't using my hands and I realized I should start the videos by showing that I have no arms or legs. That's when my makeup videos really started to take off. People realized I was actually doing this with no hands.
One of my most popular videos has been the one where I show how I put on my false eyelashes. That video has gone viral on Twitter and TikTok. My husband did them for me for a while but he was at work one day, so I ended up filming myself putting my false eyelashes on correctly. It was actually easy and now it takes me less than a second. I have the muscle memory of where they need to go, how they need to feel and what they need to look like, because I can't look into a mirror when I'm doing it. I apply them for my TikTok videos but then I rip those suckers off. I can't take myself seriously when I have them on! A lot of people do think they are magnetic lashes, but I have tried to hint they aren't by putting lash glue in the frame.
Most of my videos are about makeup, but I also started doing TikTok so I could make shorter videos showing how I do certain things. In the beginning I really enjoyed that. Whether it was getting dressed, showering, cooking or getting in and out of my wheelchair. Then, the comments started to turn a little more negative and become more invasive.
I posted one video about my bridal shower and people were saying that I looked like the Nicki Minaj perfume bottle, they were just taking it way too far. So I was very hesitant to post videos of my wedding because it was a very special moment. I was already getting so much backlash for the way I look, and I can't change that. In the end, I posted a wedding video of me walking down the aisle, and that now has 86million views.
I then decided to re-evaluate how I looked at these situations. More than 99 percent of these people don't know me and never will. Social media can be a mean fish bowl and I'm still getting to the point where I'm building a thicker skin. But I'm glad I'm sensitive, I want to be able to be compassionate and empathetic towards people.
I still don't think of myself as a beauty influencer, but having that label is really cool. I just wanted to show that anything is possible, whether that's dancing or being able to do a fun, creative makeup look. My motto has always been: "People are always going to tell me "no", but I'm going to show them." I've constantly been told I can't do things but I've always defied the odds.
I love when younger people's parents comment to say that their kids will get up in the morning and the first thing they want to do is watch my videos. Or, when I hear that people from the disability community watched my videos and say that it made them want to learn how to do makeup in their own way.
When I first started on TikTok I had around 10,000 followers and it's built up slowly but surely. Adam has been able to watch the growth and he takes me out on dates when I hit milestones! I just hit 2 million followers. It's beyond crazy.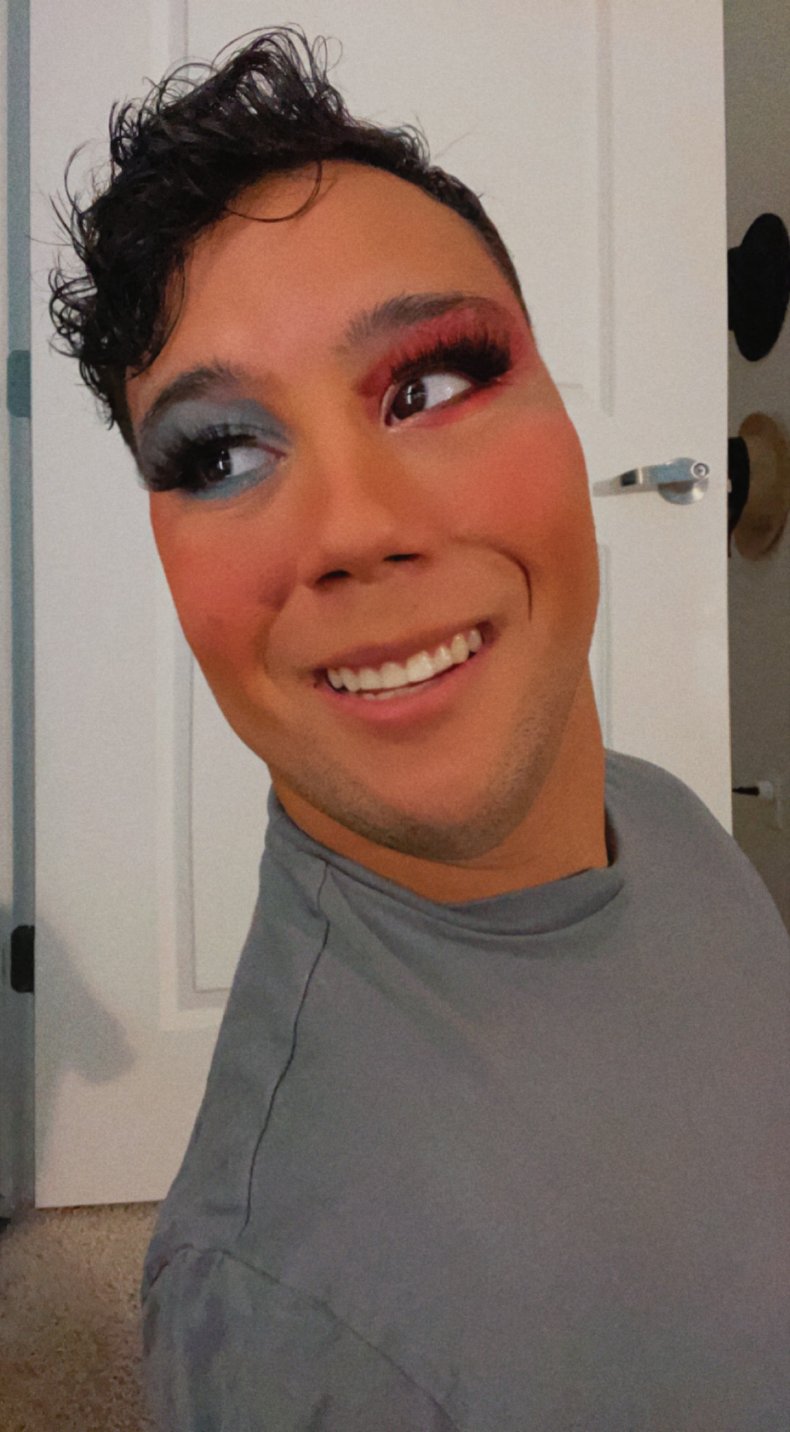 In the future, I would love to have my own makeup line or do a collaboration. I already know what I would name the shades, their colors and the layout of the palettes. I would also love to be the face you see when you walk into a beauty store. It's not just about me being shown, it's about people with disabilities being shown, people who are gay and people of color. I want us all to be highlighted and celebrated.
Everybody's story is different, so I don't want to offend people who are going through experiences different to mine. But for me, now I am through the harder times and on the up, I can say it does get better. It's important to know there are other people out there who love you, support you and want to help you. It just takes you saying: help me and show me how to get through this.
Gabe Adams-Wheately lives in Salt Lake City, Utah, with his husband, Adam. You can follow him on TikTok @gabeadams Instagram @no_limbs_ .
All views expressed in this article are the author's own.
As told to Jenny Haward.