Adults shared their concerns over Generation Z after a teacher shared a viral TikTok video of students confusing Helen Keller for Adolf Hitler.
Shared by teacher and TikTok user @sameulsleeves on Friday, students yell out answers to his questions regarding historical figures and facts throughout the video. The teacher, wearing a mask, looks stunned when one child claims that "Helen Keller is the Nazi guy." When the teacher pressed the student further about the answer, she goes on to explain that Keller was "like a terrorist or something."
Baffled by the answer, the teacher goes on to suggest that the students are probably "thinking of Hitler." The teacher is further shocked to discover that the kids don't know who Hitler was either, however, the most worrisome part of the video, according to some people on social media who have viewed it, is when the students begin to claim that Keller was the "blind and deaf person who was fake."
"She didn't exist, but everyone believes she was deaf and blind," one student said.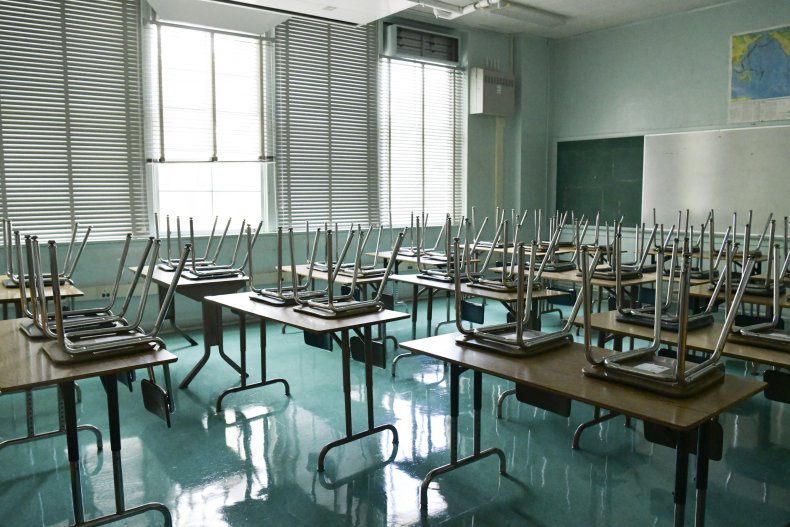 A Radcliffe College alum, Keller was the first blind and deaf woman to graduate from college in 1904. Despite losing her sight and hearing when she was 19 months, Keller grew up to become a champion for disability rights and a critically acclaimed author.
It wasn't just Keller and the history and figures surrounding the Holocaust that the students were unaware of. Later in @samuelsleeves' video, the students claimed D-Day was a rapper. D-Day marks the date in which Allied forces invaded northern France during World War II on June 6, 1944.
Newsweek has reached out to @samuelsleeves for comment.
The TikTok video made waves online, resulting in a number of people voicing their disappointment in Gen Z's capacity for history.
"So this is terrifying. History teacher discussing major events with Gen Z students," one person tweeted on Sunday.
"The students: 'Helen Keller is a Nazi terrorist' 'D-day is a famous rapper"' and they have no idea who Hitler is. We are so screwed," another wrote.
Other's online suggested that the children's lacking knowledge of important moments and figures of American history was a key indicator as to how some ultra-conservative conspiracy spreaders end up in Congress.
"If you want to know how Lauren Boebert and Marjorie Taylor Greene got elected, this video where HS students claim Helen Keller didn't exist—OR WAS HITLER—never heard of D Day or Pearl Harbor and are generally completely ignorant of American history gives you a scary indicator," one person tweeted.
There were some people who felt the video was not enough to smear the leaders of the future.
"I'm not wild about a lot of stuff gen z is into, which is ok, because I am an old. but 'lol the kids these days are so dumb' content hits me the wrong way because i remember when they said it about us in gen x when we were watching MTV "too much," American Independent writer Oliver Willis tweeted on Monday, later adding, "There are too many stupid voices, and the stupid voices are being amplified too much (frankly most of them are xers and boomers). But the kids are smarter than us, overall."