Viral TikTok Helps Reunite Laptop With Owner After Mixup at Airport
Airports can be a hectic environment for travelers and mixups may happen. TikTok user ariesruth took to the popular video-sharing app after realizing she grabbed the wrong computer while going through security. Her video, which has 4.7 million views, helped reunite the owner with the laptop.
In the first video she uploaded, ariesruth recreated the moment she realized the laptop she brought home with her from the airport does not belong to her.
"Unpacking after my flight home from Memphis. My laptop felt a lil different," the text over the video read.
Upon opening the laptop, the lock screen showed that the owner of the laptop is someone named "Amy Rowan."
"I literally took the wrong laptop at TSA," the text over the video read.
TikTok users flooded the comment section, some sharing their personal stories of losing their belongings at airports and others asking for an update.
The National Football League's Pittsburgh Steelers even commented, writing "Amy Rowan wya."
The video eventually made its way to the right person, and ariesruth told Newsweek that it took about 24 hours since the video was posted.
"Hahaha omg!! That's my best [friend's] mom! I think she messaged you!" wrote Hanna Nielson.
Within a week of posting the viral video, ariesruth mailed the laptop to its rightful owner. Rowan posted a TikTok of her own showing she received the computer back in one piece, as well as a letter from ariesruth.
"Girl, I cannot apologize to you enough for putting you through this absolute mess!" ariesruth wrote in her note. "I am still floored that the TikTok gods convened and my video reached your daughter's friend."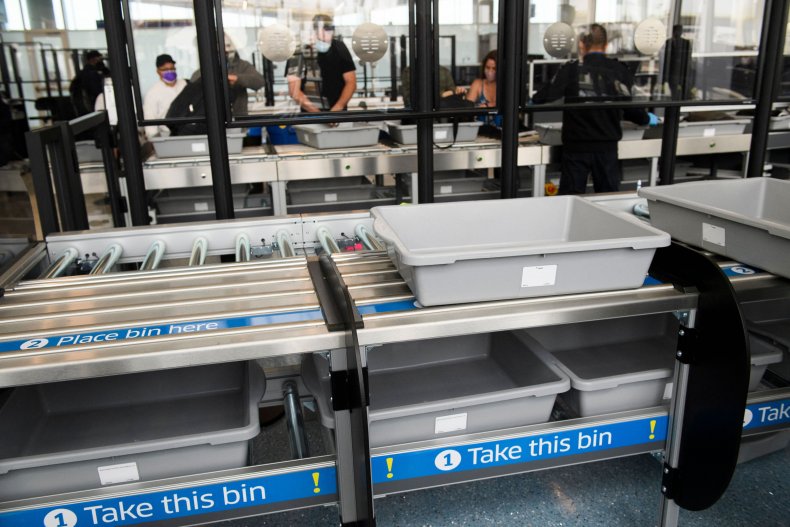 She told Newsweek that Rowan was understanding and helpful throughout the process of getting the laptop back to her.
Although Rowan received her laptop, ariesruth's laptop remains at large.
In a follow-up TikTok, she posted that the airport's lost and found office near her is closed for in-person assistance.
"The airport is backed up af cus of idiots like me," ariesruth wrote in her comment section of her video. "They said it's gonna take 5-7 weeks before I get my laptop back."
She told Newsweek that while it isn't ideal to be away from her laptop for such a long time, she finds the ordeal funny.
"It's insane that TikTok has the power to find a human being because of a laptop," she said. "People were commending me for seeking her out, but I commend the TikTok community for collectively caring enough to boost it so quickly."
Ariesruth said she followed the standard procedure and filed her claim online.
Ariesruth posted a video explaining the entire situation from start to finish.
"Apparently stuff like this happens a lot, so they have a lot of claims they're taking care of," she said.
She said that Rowan told her that she reported her laptop missing at the airport and officials were looking for her.
"I'm shocked that they didn't find me because I was there for a while," ariesruth said.
After realizing that she took the wrong laptop home with her, she said that she contacted the airports she flew out of and messaged numerous people named "Amy Rowan" through social media.
As a last resort before bringing the computer to the police, ariesruth said she decided to post the TikTok, which managed to connect her with Rowan.
According to the Transportation Security Administration's website, items that have been left behind at TSA security checkpoints are held for a minimum of 30 days or until the item is reunited with the owner. The website stated that passengers are encouraged to leave contact information on their electronic devices in the event that the item is left behind.
If there are unclaimed electronic devices after the 30-day holding period, their memory will be removed and destroyed, or the device will be completely destroyed if the item has non-removable memory.
Updated 10/01/2021, 5:53 p.m. ET: This story has been updated with comments from TikTok user ariesruth.