Woman Sharing Pre-War Life in Ukraine With Boyfriend and Dog Breaks Hearts
For many of Ukraine's residents, the war has undoubtedly changed their lives forever. One woman has given TikTok a heartbreaking insight into life before the war compared with how things are now.
Uliana, who uses the handle @ulkashvd, has pieced together a number of videos of herself, her partner and her dog prior to the Russian invasion.
They can be seen enjoying life to the "fullest," which involves watching the sun set, hiking, and having a "normal life" in Kyiv, the capital of Ukraine.
More than 1.7 million people have watched the viral video, which ends with explosions and the aftermath. It has received more than 247,000 likes and has been shared more than 2,000 times. You can watch the video here.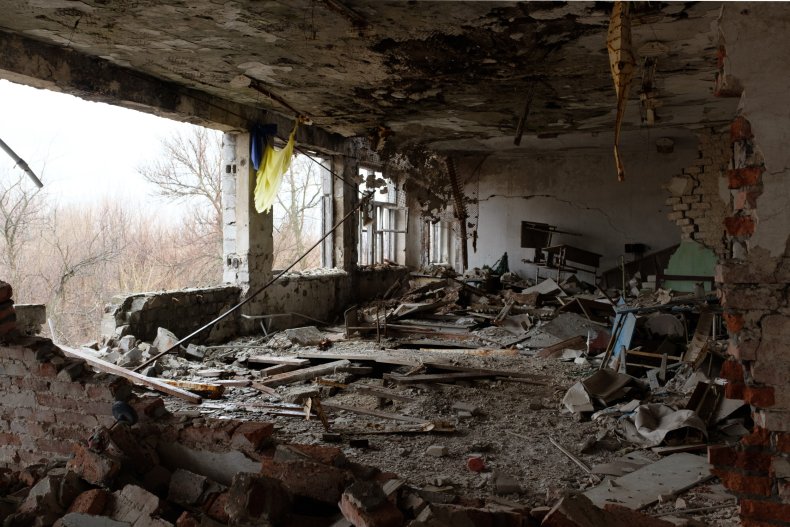 Uliana has used the social media platform to show people the reality of life in Ukraine. But not all residents stayed in the country—millions of people fled their homes.
Millions of refugees from Ukraine are now living in different parts of Europe due to the Russian invasion. Statista's most recent figures state approximately 1.5 million were reported to have fled to Poland and more than 1 million were in Germany as of November 1. In total, nearly 7.8 million Ukrainian refugees were registered across Europe.
In another video, Uliana explains how her pet dog has coped with "Russian rockets." She includes footage from when they were forced to sit in a basement for safety. But she describes her fluffy companion as "stress-resistant."
Thousands of people from all over the world have flocked to the comment section to show their support.
"Everything in this is heartbreaking but the part when the dog is looking out the window, they understand even less than we do. Stay safe," wrote one user whose comment received more than 9,300 likes.
Another comment said: "I cry for Ukraine almost daily. So much love coming from the US. My husband is Ukrainian and our home is open to all refugees."
"Sending love from USA. No one deserves this. Please continue to scream the truth," said another.
"Wishing you every joy life has to offer after being through so much. Sending love," wrote another TikToker.
"Can't imagine the pain and suffering you are enduring. but you will prevail! Slava Ukraini! Love from Sweden," said another.
Uliana has responded to the comments, and one reply said: "Thank you so much! We appreciate all the support and help we get! We'll win soon and celebrate together with the whole world."
Newsweek reached out to @ulkashvd for comment. We couldn't verify the details of the case.