Viral TikTok Shows Japanese Man Taking His Giant African Tortoise for a Walk
A video showing a Japanese man walking his giant pet tortoise down a city street went viral on Wednesday.
The video, posted to TikTok by @sugiomart, had been viewed at least 7.1 million times in less than 14 hours. It shows a large African spurred tortoise named Bon-chan walking down a city street while accompanied by his owner, funeral director Mitani Hisao, in Tsukishima, an area of Tokyo.
"His name is Bon-chan and he's 25 years old," a narrator says during the video as an image of the large tortoise wearing a tiny samurai-style helmet appears. "Mr. Mitani's wife bought him when he was smaller than the size of the palm of his hand. They expected him to get big, but not this big. And he started to grow rapidly as soon as he hit 10 years old. Now he weighs 70 kilograms, which is about 150 pounds."
The narrator then explains that Mitani takes Bon-chan for "long walks" regularly on a popular shopping street, claiming those in the area "will definitely see Bon-chan taking a walk" from 3 to 5 p.m. "on a very nice day."
Wednesday was not the first time videos of Bon-chan have gone viral. Recordings of the regular reptile strolls have been widely shared since at least 2015, when Mitani told The Daily Mail that his bond with the oversized tortoise had been "instant."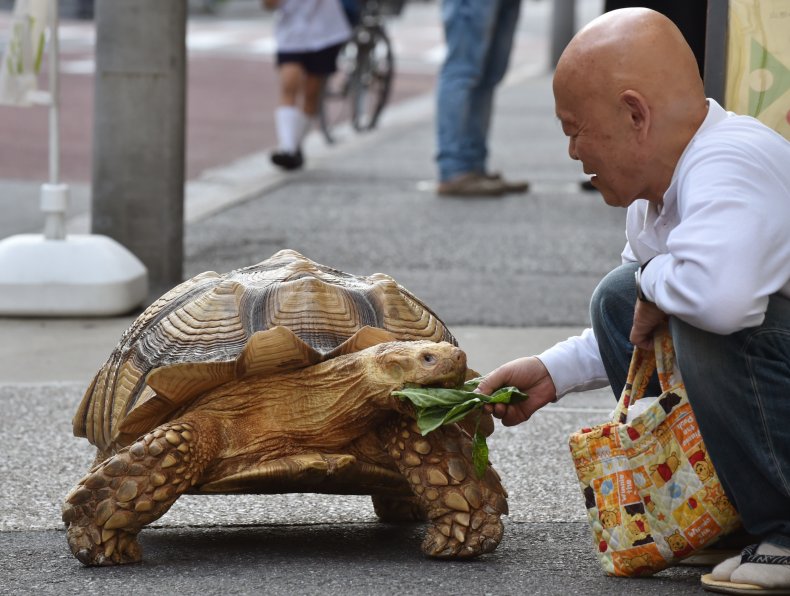 'I never had any children, but 19 years ago my wife caught the eyes of this little tortoise and felt an instant bond with him," Mitani said at the time. "I couldn't leave the store without it. But we had no idea he would become this big... He knows all my dirty secrets – if he could talk I would be in trouble."
'I take him out for walks two to three times a week, he loves these walks, he has a set route that takes us around 1.5 hours," he added. "Bon-chan knows the route by heart and is very strong-minded, so it is more me that follows him, than the other way around. We walk the neighbourhood and we are pretty famous around here."
Mitani went on to describe Bon-chan as his "son," saying he was "proud" of the tortoise because he "brings a smile" to the faces of the people they encounter on walks.
During a follow-up article the paper published in 2016, Mitani said that Bon-chan went on walks as often as possible. However, Mitani takes special care to make sure the cold-blooded creature remains warm on walks during the winter.
"I use hand warmers when we go out. His clothes were made by our friend next door – it goes with a matching bag," said Mitani. "I try to take him out whenever I have the time, I think it helps to relieve his stress from being cooped up."