Viral TikTok Shows Working Conditions For Restaurant Workers Hiding Behind Counter To Eat
A six-second video went viral on TikTok for showing the realities of working conditions for food service workers. The video has amassed more than 1.7 million views and 1,400 comments since it was posted on Friday.
Posted by musician and chef Nestor Consuegra, or @nessconsuegra on TikTok, the video showed several restaurant employees crouching behind the counter to grab bites of their food. While it is unclear which restaurant the video depicted, commenters said it appeared the employees were not given time to eat during the workday.
"Chef deserve better," the caption of the video said. "Let's work together to give chef the proper breaks and time to eat."
In the video, four restaurant employees are shown hiding as they took quick bites of food in the middle of a working shift. The footage had people up in arms about working conditions and how the employees deserve proper breaks.
"I used to be a server and came home shaking from exhaustion," one user commented. "No time to eat. TIP your servers people."
Other users in the comments discussed their personal experiences working in the food industry, and many said they shared very similar experiences. One recalled the times they had to eat in the walk-in freezer because they weren't given a break to eat during their shift. Others said they ate as they worked, even during longer than twelve-hour shifts.
"I will literally never work in a restaurant again," another person commented. "Loved my coworkers but it was just not worth it."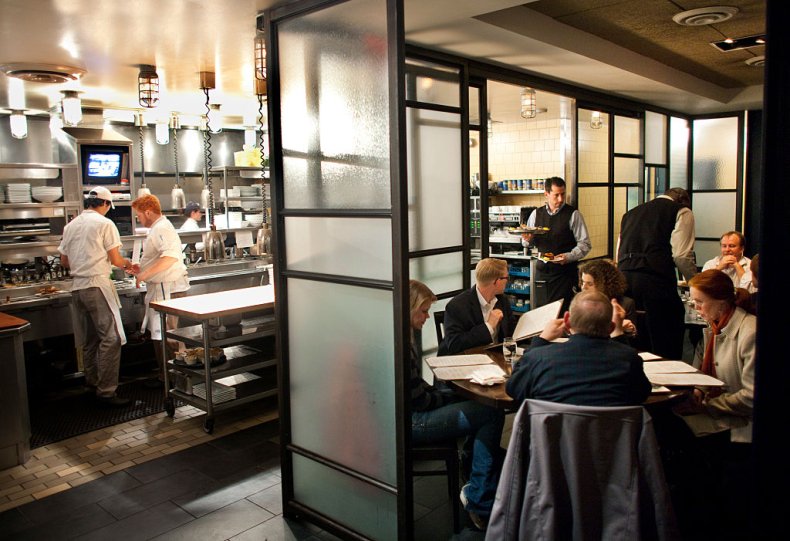 Consuegra replied to the comment saying that working in the restaurant industry is like "modern slavery."
Many employees within the foodservice industry have been quitting due to low wages and feeling overworked. Restaurants across the country have struggled to hire staff as individuals seek higher pay and more lenient hours -- others have walked out in protest.
Earlier this month, another video went viral on TikTok showing a Pizza Hut employee eating on the job. In the video, posted by @babyzeusdope, a customer filmed an employee eating behind the counter.
"Imagine picking up your food and seeing a worker EATING over your food," the on-screen text read. The video caption read, "This is disgusting."
Many in the comments agreed with the TikToker saying it was a health code violation. But others came to the employee's defense saying she probably had no time during her shift to eat.
"What if she didn't have a break? What if [they're] short on staff and she been there every day...I swear people always have to [find] something!" one person wrote.
In the comments, a user who claimed they used to work at a Pizza Hut said there was no employee break room for them to eat.
Newsweek reached out to Consuegra for comment.