Viral TikTok Slams KFC for Touting $11 Per Hour Supervisor Job Barely Above Average Wage
KFC was slammed on TikTok after touting an $11 per hour supervisor job at a Las Vegas drive-thru window amid a national labor shortage and a debate about minimum wage.
A video uploaded to TikTok by the account @mamad23pandababies on Wednesday shows a sign at the fast-food restaurant asking the public to "join our KFC family," while offering starting wages of $10 per hour for cashiers and $11 per hour for both cooks and supervisors. The video had amassed over 25,000 views on TikTok as of Thursday afternoon.
"So, we are at KFC," the narrator of the video states while an image of the recruitment sign is shown. "What I wanna know is if I'm the supervisor, why am I making the same dollar amount as the cook? And I'm only making one dollar more than the cashier? Like, what the f**k, I've got to manage and supervise folks."
Most responses to the video contended that the wage was far too low. One commenter wrote, "That's gotta be a misprint," while others suggested that the pay was "why they don't have employees" or "why everyone is fed up working in fast food."
Mia Driskell, the creator of the video, told The Daily Dot that she recorded the video while taking her 7-year-old son to get lunch at KFC. Her young son reportedly pointed out that $10 was "not a lot of money," prompting the creation of the video.
"I said 'No it's not, let's make a TikTok about it,'" Driskell, who is not a KFC employee, told the outlet. "That wage is too small for here in Las Vegas, Nevada. How can a person live off of that? There's no way."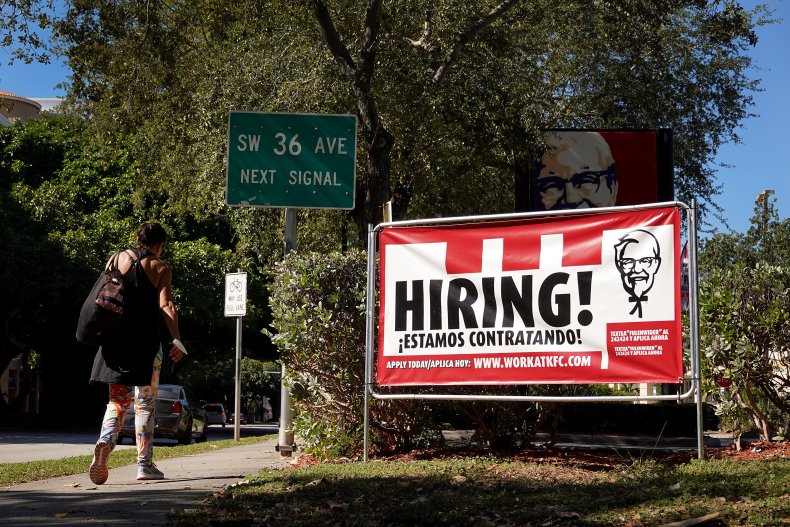 Newsweek reached out to KFC for comment.
The average hourly wage for any fast-food worker in Las Vegas is $9.50, according to Payscale.Com. The minimum wage in Nevada is currently $9.75 per hour when health insurance is not offered with employment or $8.75 per hour for jobs that include health insurance. Workers under 20 years old can be legally paid as little as $4.25 per hour.
Meanwhile, rent prices in Las Vegas have recently reached an all-time high, averaging around $1,800 for a one-bedroom apartment or $2,000 for a two-bedroom, according to local news station KTNV. The hourly minimum wage in Nevada will next year increase to either $10.50 or $9.50, depending on benefits, and either $12 or $11 per hour in 2024.
Businesses in Nevada and most other areas of the country have been experiencing difficulty in finding low-wage workers this year. Many workers, especially those in the service and hospitality industries, have quit their jobs. Some have suggested that too low wages, in addition to potential health hazards amid the COVID-19 pandemic, could be to blame.
"A lot of the jobs where workers have been paid low wages are risky and that risk has increased," Jeffrey Waddoups, chair of the economics department at the University of Nevada Las Vegas, told Nevada Current in July. "There is a shortage of $10 an hour workers...There might not be a shortage of people willing to work for $15 or $20 an hour."
The federal minimum wage has remained at $7.25 per hour since 2009. The minimum wage would be at least $26 per hour had it grown in line with productivity over the past 50 years, according to the Center for Economic and Policy Research. Efforts from Democratic lawmakers to raise the minimum to $15 per hour stalled earlier this year after it was forced out of President Joe Biden's COVID-19 relief bill, while Republicans have largely rejected the proposal.