Woman Shares Fatal Flaw in White Noise Podcast That Startled Sleeping Baby
A video of a sleeping baby woken up by the sound of a "relaxing" white noise podcast that aims to help you fall asleep has gone viral on TikTok.
The 10-second clip shared by user Melissa Adele Guest—which at the time of reporting had at least 2.8 million views and over 360,000 likes since it was posted—shows a baby in a peaceful slumber, laying on their stomach in a crib before being startled awake by the loud blast of the podcast, which appears to be an episode from the Relaxing White Noise podcast on Spotify.
"Welcome to the Relaxing White Noise podcast. White noise and nature sounds and eight-hour uninterrupted episodes to help you relax..." a voice says in the clip.
White noise is a combination of sounds across varying frequencies that are audible by the human ear. It's sometimes referred to as broadband noise due to the multiple bands of sound it covers.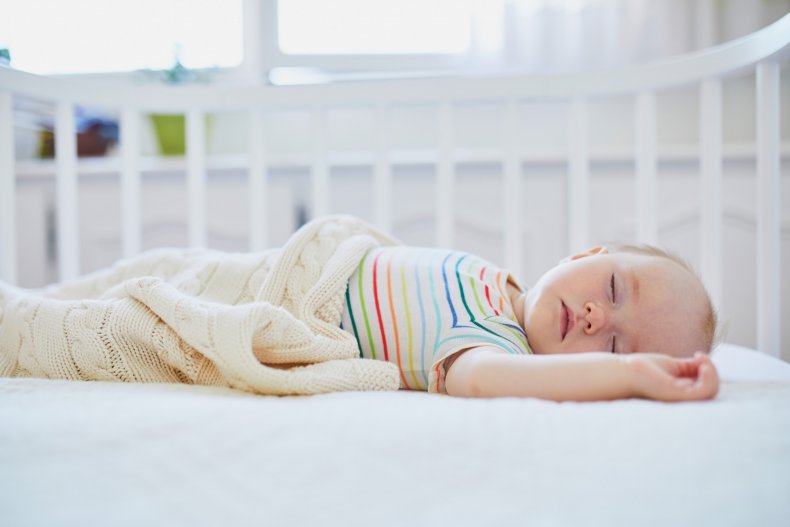 Some studies have shown that white noise may help improve sleep, such as one back in 1990 published in the peer-reviewed journal Archives of Disease in Childhood, which concluded that "white noise may help mothers settle difficult babies."
The study, which observed 40 newborns between 2 and 7 days old in a randomized trial, showed that 80 percent fell asleep within 5 minutes in response to white noise.
The latest viral video has had TikTok users "in stitches," as described by user Golf, whose comment had at least 14,600 likes at the time of reporting.
User Lauren felt a pang of nostalgia, writing: "aw it's getting the 90s kids experience 😂 when we fell asleep in front of the TV & then infomercials blasted out at 3am." The comment has had over 41,000 likes since it was posted.
Several users shared they could relate to the baby's rude awakening, such as Mama Lu who commented: "Laughing because I listen to the relaxing white noise podcast every night and jump out my sleep EXACTLY like this every time 😭😭😭."
SanaM wrote: "omgggg same here! its come to a point that as soon as the volume goes down indicating its going to end my eyes fly open to rewind the podcast 😭."
Ashely Atkinson also agreed, writing: "Never related to something more 😂😂😂."
Kelly Jo wrote: I've lost count of the times this has happened 😂."
See a link to the TikTok video shared by Melissa Adele Guest here.
White noise has been used by many as a sleep aid, but the practice isn't risk-free. A 2014 study in Pediatrics, the peer-reviewed journal published by the American Academy of Pediatrics, suggested that the use of infant "sleep machines" (ISMs) that produce ambient noise "raises concerns for increasing an infant's risk of noise-induced hearing loss."
The study concluded that "ISMs are capable of producing output sound pressure levels that may be damaging to infant hearing and auditory development."
According to a Healthline article medically reviewed by board-certified pediatrician Dr. Karen Gill, based on that 2014 study published by the AAP, pediatricians recommend white noise machines should be placed at least seven feet away from a baby's crib and the volume should be kept below the machine's maximum volume setting.