Viral Tweet Sparks Debate About Holiday COVID Testing Amid Huge Travel Expectations
How do families handle the holidays in the age of COVID-19?
Not very well, according to one woman's tweet that has gone viral with over 92,300 "likes."
The tweeter, Cassandra Basler, began her post from Saturday with: "How politicized is Omicron in Michigan?"
Then, she said she asked her family if all would comply with at-home rapid tests before convening together indoors.
She was ultimately uninvited from the festivities.
Data released Monday by the Centers for Disease Control and Prevention (CDC) recognized Omicron as the most dominant COVID-19 strain in the U.S., composing about 73 percent of new infections for the week ending December 18.
When data was released last week, Omicron was detected in less than 13 percent of new COVID-19 cases.
Responses to Basler's tweet were across the board.
Some, like user @MadMaxMKE, believe that Michigan Gov. Gretchen Whitmer should impose stringent orders across the board to mitigate future spread and slow down hospital admissions.
Another response stated: "If anyone in the comments section has advice for deradicalizing conspiracy theorist family members, please please please drop that advice right here."
One man, who is vaccinated and boosted and hosting a family gathering, said his son—a doctor—requested that all attendees take at-home tests. The man declined due to his vaccination status.
"I've been vaccinated and I never asked my family to do that," user brandi_mcminn said. "Obviously every family is different but tests cost a lot of money. And not everyone has an extra $150 laying around to take one. So yeah, I would never expect that of my family."
On Tuesday, President Joe Biden's administration said it will provide free at-home rapid tests to those who request them.
Travel numbers are expected to rival pre-pandemic numbers, according to the Transportation Security Administration (TSA). After screening about 21 million passengers during the 10-day Thanksgiving holiday, the agency expects similar numbers this Christmas.
"We see a strengthening in the airline travel industry toward pre-pandemic levels and our goal is to ensure you as the passenger have a safe and secure flight," said TSA Administrator David Pekoske. "We work hard with our airport and airline partners to achieve this by ensuring screening operations meet the upcoming demand."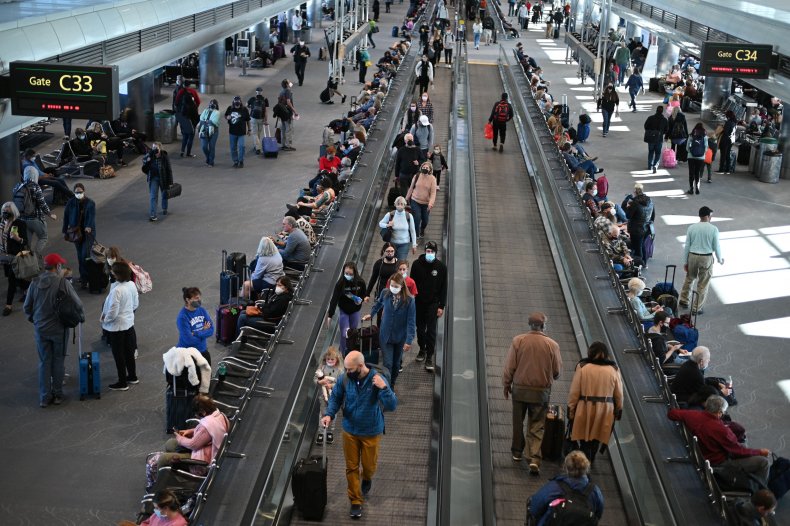 The Denver International Airport, for example, expects to see between 2.7 and 2.9 million passengers walk through its doors between now and Jan. 3, per The Denver Post. That's only a 5 percent increase compared to the same time period in 2019, before the coronavirus pandemic.
In its 2021 Christmas Travel Guide, Scott's Cheap Flights said that of those who were planning to travel for Christmas before Omicron, 87 percent have not changed their plans. Meanwhile, just 10 percent have canceled or postponed and 3 percent changed locations.
And of those unsure about their plans prior to the Omicron wave, 27 percent have since decided not to travel while 45 percent are still undecided.
Perhaps the most glaring statistic is that although 62 percent of people are worried about Omicron affecting their holidays, 79 percent are more worried about the variant negatively impacting travel plans in 2022.
If you're considering a cruise, policies depend on the company, Travel+Leisure reported.
Norwegian Cruise Line is requiring 100 percent of its crew and passengers to be fully vaccinated, as well as mandates passenger testing before boarding – a policy that will remain "indefinitely."
Disney Cruise Line is only requiring passengers 12 and up to be fully vaccinated, with the expectation to adjust that requirement to kids 5 and older starting in 2022.