'I'm 6, I Became Head Coach of an Ice Hockey Team'
I've loved ice hockey since I was born. I learned how to walk with a hockey stick and I know almost all the names of the players in Canada's National Hockey League (NHL). Connor McDavid is my favourite player, he plays for the Edmonton Oilers, but my favourite players for my local team the Peterborough Petes are Tucker Robinson and Mason McTavish.
In November, one of my mama's friends told her that the Petes were holding a competition where kids could take on jobs with the team for a day. One of the jobs was to be head coach at a Petes game and she thought I should enter the competition. My mama told me and I said: "Yeah, I really want to enter that competition and I want to be the head coach."
Me and my mommy went to the basement at home and we started trying to get a good speech together. It took me a few takes to get a good one, but then we did it and it was awesome. I really like the phrase: "Do whatever it takes to get the W!" W means win. I thought we needed to say that to get the team really pumped up.
We made my audition tape at night time so we sent it in the day after and the Petes were blown away. They told me that they wanted me for head coach, I was just so excited. I told my mom that I was going to go into that room and get those players motivated! It was so awesome to have the chance to coach famous hockey players that I look up to. To know I was going to give a speech to them felt so amazing. I just said "Yeah! I am going to be the head coach!"
The Petes had posted my audition speech on their website, so the day before I was going to coach the boys I thought we should write a new one; I thought the Petes had probably already heard the first one. The new speech was a team effort between me and my mom.
The whole day of Sunday November 28 was filled with excitement. I was on the bench for warm up and got to give the boys my speech. Just to get in that room with the players and then watch the game live was so awesome.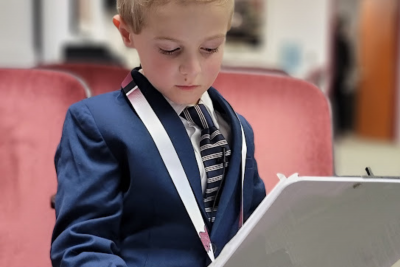 My favorite line from my speech was: "You're going to do whatever it takes to get the W!" I really had to add that just to get them motivated. At the end of the speech they all started cheering; it felt so awesome. Me and my mommy thought of that speech and we were able to get those boys motivated. I really think that they liked it and they did get the win!
After the game I got the game puck; I couldn't believe it. Some of my hockey buddies had come to the game and we saw them too, so the day was awesome; it was the best day of the year.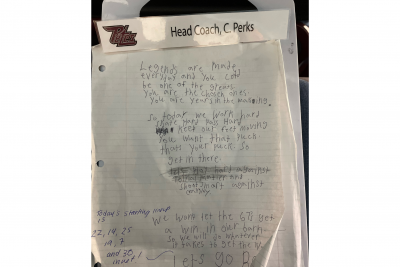 The day after I was head coach, the Peterborough Petes released a video of my coaching speech on their website. I just can't believe that so many people around the world have seen it. I don't know what happened and I don't know how I feel about it going viral because I just wanted to win the competition and think of a really good speech for the boys.
I already play hockey for the Otonabee Wolves and I have decided that I want to be an NHL player until I'm 45 and then I want to be a head coach. I just want to stick with hockey.
My teammates and coach at the Otonabee Wolves were pretty happy when they saw I had won the competition. They said they thought I would know what to say to the Petes because I already gave speeches to them!
My mama and mommy and my twin sister Ella are also very proud and they are very supportive. They are very positive and keep me focused.
My message to other kids is to be confident and keep smiling and that dream will happen. Anybody that wants to be like me should just keep being positive and working hard. Your dream is your goal and you'll get that goal if you keep working hard, being positive and being kind.
Cal Perks lives in Ontario with his mom, dad and sister, Ella.
All views expressed in this article are the author's own.
As told to Jenny Haward.