U.S. Secretary of State Antony Blinken engaged in a strongly worded exchange with China's top diplomat on Thursday during a two-day summit in Alaska.
An edited video of the exchange, which has been viewed more than 900,000 times on social media, showed Chinese Communist Party foreign affairs chief Yang Jiechi clashing with his American counterpart over the role of the U.S. in the region.
The meeting of the two countries, the first of the post-Trump era, has been heralded as a chance to reset after four years of increasingly icy relations between the two economic powerhouses.
But the opening day was defined by more hostile rhetoric, with Yang telling his counterpart that Washington "does not have the qualification to say that it wants to speak to China from a position of strength."
Jordan Schneider, a China analyst for the New York-based data firm Rhodium Group, said: "It's crazy how Chinese officials, by and large, held their tongue when engaging with the Trump administration, but in their first interaction with Biden folks, who you think they'd want to make a decent first impression with, they decide to go full Wolf Warrior to impress Xi."
Controversial conservative commentator Mike Cernovich also noted the tension, calling the exchange "utterly brutal."
During the talks, Blinken expressed the United States' "deep concern" with actions by China, including in Hong Kong and Taiwan.
He also accused Beijing of carrying out cyber attacks on the U.S and of using "economic coercion" against America's allies.
"Each of these actions threaten the rules based order that maintains global stability," Blinken said.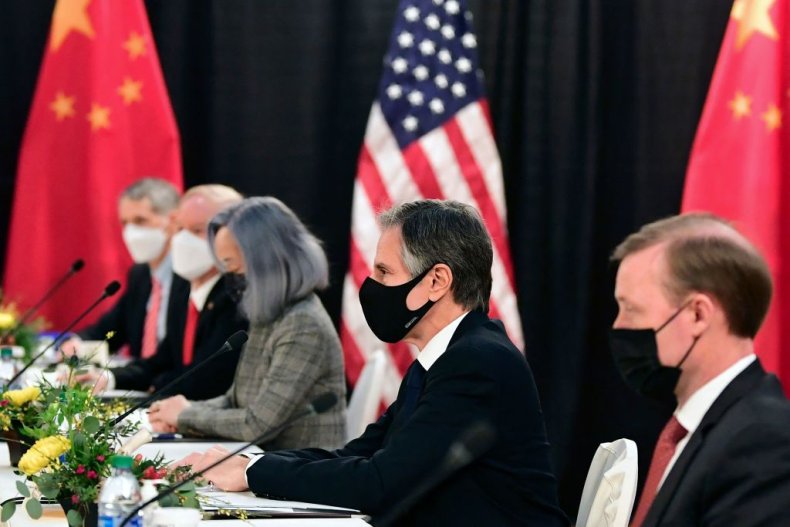 Yang, who raised U.S. human rights issues, which he said were "deep-seated," noting the Black Lives Matter movement, responded: "You can't blame this problem on somebody else."
Blinken was then shown telling his Chinese counterpart: "I have to tell you, what I am hearing is very different from what you described. I am hearing deep satisfaction that the United States is back, that we are reengaged with our allies and partners. I am also hearing deep concern about some of the actions your government has taken."
Yang said: "I think we thought too well of the United States. We thought that the US side would follow the necessary diplomatic protocol. So for China it was necessary that we make our position clear. So let me say here that in front of the Chinese side the United States does not have the qualification to say that it wants to speak to China from a position of strength."