A video has gone viral after a TikToker claims they ordered an at-home COVID-19 test through grocery delivery service Instacart—but when the delivery arrived they were surprised to find another kind of test.
The video, posted by user @donnase5, has been viewed by over 800,000 people since it was posted on December 29 and begins with the words "Thank you Instacart for your delivery and swap for a similar item..." on the screen.
The footage first shows @donnase5 holding the Abbott Binax at-home COVID test, which has become increasingly hard to find as the Omicron variant continues to spread around the country. The camera then pans to show two colon disease tests, which according to the video was considered a "similar item" and swapped out and delivered instead of the COVID test.
The TikToker responded to some comments on the viral video giving a bit more context about what happened leading up to the odd item replacement.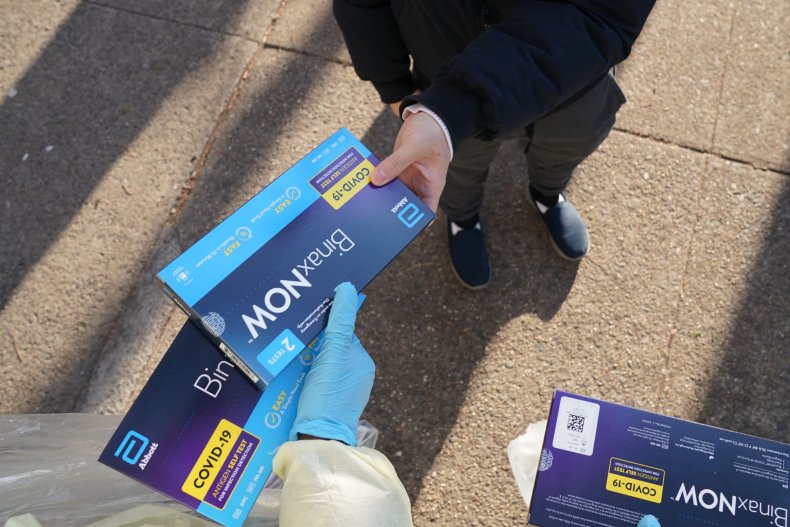 "That's why you pay attention to your phone and reject the substitute while they're shopping," one commenter said.
"[T]hey never send us a message," @donnase5 responded.
"As someone who does in store shopping for Instacart we literally are pushed to give replacements and aren't allowed to refund," another commenter added.
@donnase5 clarified in a response to the comment that they were issued a refund.
According to Instacart's website, the app lets customers track the shopper's progress and view item changes. The site also says that if changes are made to the order, the customer has the option to "select other options for replacements, or choose a refund for the item instead."
Newsweek reported in December that an Instacart shopper had been accused of running over a customer's groceries after apparently seeing the customer's pro-police sign.
A statement from local police said that the elderly couple went outside to meet the shopper once they received notification that the driver was at their house. Though, "when the couple opened the front door, the delivery driver yelled back at them to check inside of their Christmas wreath."
The message left inside the wreath said: "Instacart doesn't pay employees sry find another slave f**k the police racist pigs."
In December, another video went viral about the delivery service when an Instacart shopper posted a video to TikTok showing a 115-item order, Newsweek previously reported. The video garnered mixed comments some backing the shopper while others questioning "Ain't that your job?"
The TikToker responded to the qualms saying: "1. This is not my 'job'.. it's a side hustle. 2. I accepted it cause it was literally $87. 3. It's a TikTok. Literally just a TikTok."
Newsweek contacted Instacart and @donnase5 for comment.
Uncommon Knowledge
Newsweek is committed to challenging conventional wisdom and finding connections in the search for common ground.
Newsweek is committed to challenging conventional wisdom and finding connections in the search for common ground.