Viral Video of Clash With Macron Over Jobs Spikes Demand for Unemployed Gardener
French President Emmanuel Macron has come under fire for brushing off a jobless man's complaint, in comments that went viral—but may have also helped the man find new employment.
The exchange with Macron, which took place this week when the president welcomed the public to the Elysee Palace in an open-day event, triggered an outpour of support for the 25-year-old gardener, who asked the president to help him find work. Although the youth complained he had sent "resumes and cover letters [but] they don't lead to anything," Macron suggested he was being too picky and told the man: "If I crossed the street I'd find you [a job]."
"It was a bit hard to swallow," the gardener, identified as Jonathan Jahan, told the Europe 1 news channel. "I wanted to say to him: if that's the case come with me to look for one [job]," he said, adding he had already worked in the restaurant trade, washing dishes.
"Initially, I didn't expect to meet him. I took a photo with him, shook his hand and then said to myself 'It's now or never'," Jahan said, recalling how he came to confront Macron.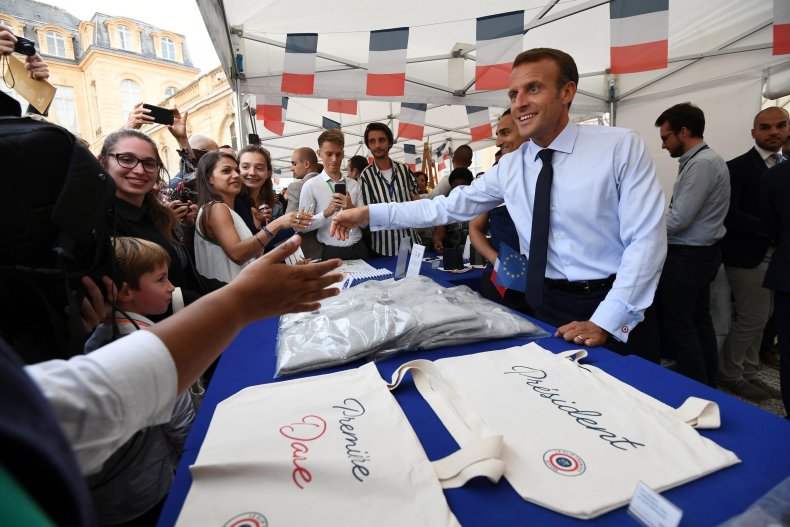 The leader, who is already dismissed as a "president of the rich" in some circles of the French left, sparked controversy when he suggested the man could go to the Montparnasse quarter of Paris and work in a cafe, restaurant or a construction site. "There's not a single place I go where they don't say they're looking for people," Macron insisted.
Macron's remarks drew huge attention from left wing commentators and earned comparisons with Queen Marie Antoinette—a woman portrayed as spoiled and out of touch with the public during the French Revolution.
"This permanent presumption against the unemployed… [that] they are not finding employment because they are not looking for it," Laurence Rossignol, a senator for France's Socialist Party wrote on Twitter. "Distance? Salary? Qualification? Small concerns, they have to just be working! Shameful!" Bastien Lachaud, a former socialist, who now sits in parliament as a member of left-wing France Unbowed party, wrote on Twitter.
The unemployment rate, which currently sits at 9.1 percent, is a major election issue in France. It prompted Macron's unpopular predecessor Francois Hollande to not seek a second term in office.
Since the weekend encounter with Macron, Jahan has spoken to national media outlets in France and the huge attention may have inadvertently found a solution of his problems, as gardening job offers have apparently piled up and waiting for him to give a response, according to Francois Felix, the head of the country's horticulturists' federation.
"We've become a job center! So we're asking this young jobseeker to get in touch," said, according to France Info radio.