Viral Video of Employee Holding Baby While Working Prompts Response From Waffle House
A TikTok video that showed an employee holding a baby while working at Waffle House has gone viral and more than 41,000 people have since commented on it, many of whom offered their support to the employee. One commenter wrote that she is the aunt of the child, but after an investigation conducted by Waffle House, it was determined this was untrue.
The video, which has amassed more than 4 million views since it was posted on October 3, showed an employee filling orders while holding a baby. The text written over the video read, "Ain't know why she got her baby in here smh."
However, many TikTok viewers expressed their admiration for the employee.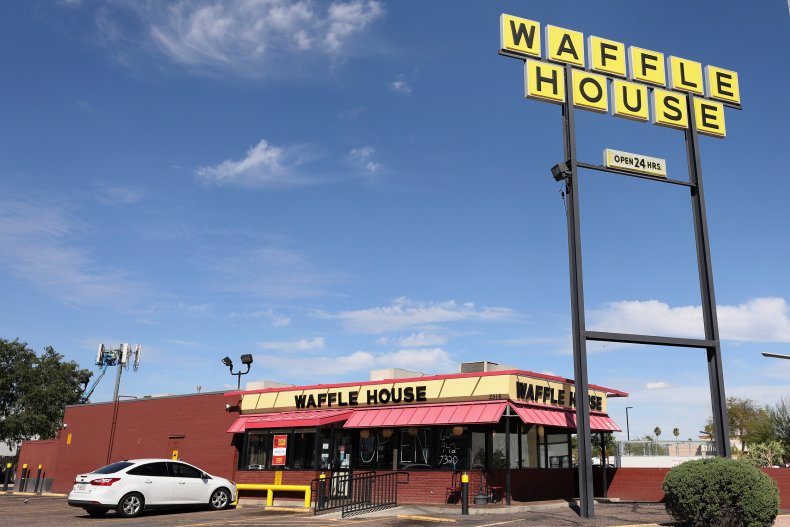 "Nothing but respect tbh," wrote angryreactions, whose account has 24.1 million followers.
A commenter suggested that this was likely the only option the employee had.
"I hope people realize that this was probably her last resort...ya gotta do what ya gotta do," the TikToker user wrote.
"That's a strong Queen...my respect for her," wrote another.
One person came forward claiming to be the employee in the video, and her comment received more than 147,000 "likes."
"This is me on the video," wrote TikToker tiffanyclark843, whose account is now private. "She is my niece it was either I take her or dss was so she was brought to me 230 am and I was already at work."
"Girl you did what you had to do! Bless you for taking that baby," one commenter wrote to tiffanyclark843.
Another wrote, "Hats off to you, you are an amazing woman."
Waffle House recently came out with a statement on Twitter claiming that, while an employee was holding a baby at work, she is not related to the baby in any way, did not identify herself as the person in the TikTok video, did not provide a CashApp account to receive donations, did not give an interview to a media outlet and was not suspended from her job.
"Thus, people who are donating to any CashApp related to this story likely have been scammed by someone unrelated to our employee," the statement read in part.
The statement from Waffle House noted that although the employee was holding a co-worker's in an attempt to settle a crying child, the employees are being coached and re-trained on the chain's safety guidelines "that govern working behind the counter."
Njeri Boss, Waffle House's vice president of public relations told Newsweek that the Twitter statement is the final comment they have on the matter.