Viral Video Shows Bucky's Gas Station Clerk Abusing Mexican Tourists—'ICE Will Come… You're in the Wrong Country'
The gas station employee at the center of a viral video controversy in which he was filmed threatening to call Immigration and Customs Enforcement on Mexican tourists is now suspended from his job.
In the video, which was posted to Facebook, the employee at the Bucky's Mobil store in Naperville, Illinois, is seen in a confrontation with the Mexican women, who were visiting relatives in the area on Tuesday. The full exchange is not shown in the uploaded footage.
The employee mentions "undocumented people," mentions that he is an American citizen, and asks the women: "Are you an American citizen?" When asked what his problem is, he says: "They need to go back to their country. It's illegal." As the women leave the store he says: "ICE will come… You're in the wrong country."
Mafer Hmurphy posted the footage, viewed over 460,000 times, to her Facebook page, which says she is from Tabasco in Mexico. She wrote: "Check this guy who didn't want to sell us anything because we are Mexicans, what a way to treat tourists."
Carolina Buitron told WGNTV that her two cousins were in the video and that they were visiting from Mexico. She said she was hurt and upset by what happened and that she was born in the U.S.
"He started asking about my cousins, if they were illegal, family or friends, are they adopted," Buitron told NBC Chicago, and said it was at this point that she began recording on her cell phone.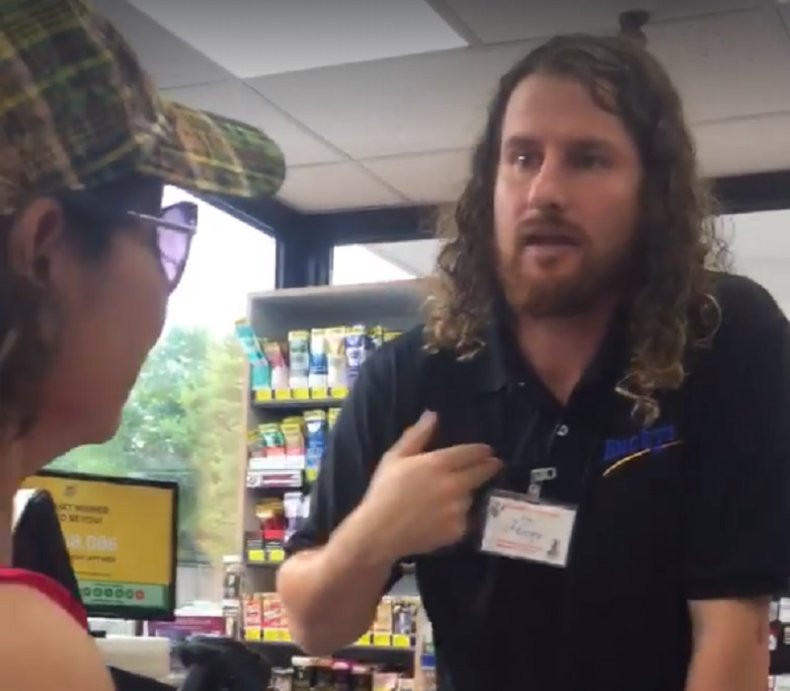 Stephen Kalhorn, general counsel for Buchanan Energy, which owns the Bucky's store, told Patch that the employee is suspended, though he claimed surveillance camera footage showed there is more to the story, and claimed the women entered the gas station already filming.
"Within the last few hours, a video was posted on social media displaying a Bucky's associate engaged in a confrontation with a customer," said a statement by Bucky's, posted to its Facebook page.
"The comments of this associate are not reflective of the core values of Bucky's Convenience Stores. We are aware of the situation and are managing this personnel issue. We take this matter seriously and strive to ensure that all customers are treated with respect."
A protest in support of the women was held outside the gas station on Wednesday.
Naperville Mayor Steve Chirico also posted a statement to Facebook about the incident and said the city's police department has reviewed the video and is investigating.
"Let me be abundantly clear: Hate has no home here in Naperville," Chirico said. "Quite frankly, this type of behavior has no place in society at large. Our city prides itself on being open and inclusive to all. Civility towards each other is an important component of being a global citizen, and I urge everyone in our community to showcase the kindness, compassion, and good decorum that our residents are known for and that our world needs more of."
Hmurphy did not respond immediately to Newsweek's request for comment.