Viral Video Shows Illinois Man Shoving Elderly Couple to the Ground Before His Arrest: 'You Don't Belong Down Here!'
Police in Peru, Illinois, arrested a man after a video went viral on Facebook showing him allegedly shoving two senior citizens to the ground in an apparent dispute over illegal dumping in a ravine at his property.
Peru Police Department said in a release that Michael E. Stuart, 43, of the city's 808 6th Street was detained on a LaSalle County arrest warrant for three felony charges: two counts of aggravated battery to senior citizens and one count of aggravated battery on a public way.
Stuart, who is held on a $30,000 bail at LaSalle County Jail, was also detained for an alleged failure to secure a permit for earth change and accused of dumping fill in his ravine without appropriate permission from the local building and zoning department.
A witness to the altercation captured events on his phone's camera and shared it with the victims, which led to Stuart's arrest. The video, viewed more than 122,000 times on Facebook, appears to show Stuart yelling at an elderly man and woman as they walk down the street.
It was posted to Facebook by a user called Cat Carroll, who stated that she is the couple's daughter. She said they are both 82 years old: "My mom and dad are OK, but I am furious. I am thankful to the good Samaritan who took the video."
"Get over there, don't come over here," Stuart yells as the couple walk down the road, the video shows. "You hear me? Don't come over to my property. I own all them ravines, you don't own that. Get over there. You don't belong over here."
As the old man walks past, Stuart appears to shove him hard from behind to the ground as the woman protests.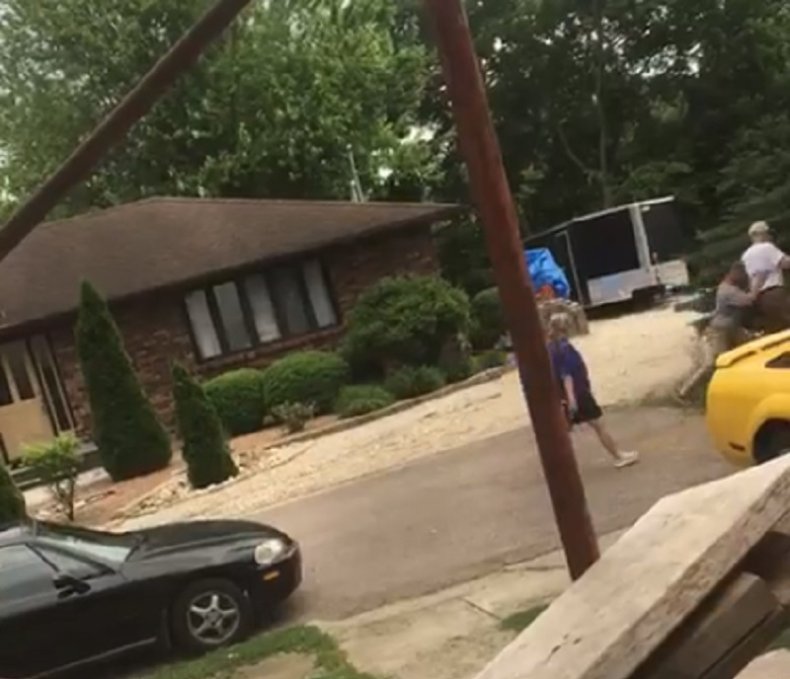 "Get off the street," Stuart shouts at her as the old man groans on the floor. "Get off my property. Get off my property," he continues, as the elderly woman appears to swing an arm at him and he manhandles her.
"Don't come over to my property. You're causing trouble...I told ya, you come down here, you're going to get trouble...Get out of here. How many times do I got to tell you, you got no business being down here. Get out of here."
Stuart then claims the old man had struck him earlier on, which the couple denies. "Yes you did," Stuart says. "Don't put your hands on me again I told you. Don't do it again."
The old man protests that it is a public street. "Don't come down in front of my house and put your hands on me. Yes you did. That's why you got thrown over the hill," Stuart says, as the old man says his way was blocked. "You don't belong down here...Keep going."
Stuart then points at a house and says: "That's your property. Not down here. This is mine. I own this...I'm giving you five seconds to start walking...I own this, I bought all this years ago. I own it. Get out of here."
The daughter Cat Carroll wrote on Facebook that her "folks were upset about illegal dumping into the ravine" and alleged that Stuart stole her mother's camera and threw it into the ravine. Carroll also said her dad went to the hospital but "thankfully nothing serious [was] wrong."