Viral Video of Fan Taking Down N.Y. Jets Offense Viewed Over 2M Times
New York Jets fans are a cynical lot, and one young fan is turning that doubt into a successful career.
A TikTok user went viral with a savage breakdown of his favorite team's offense from the first quarter of the Jets' 25-6 loss to the New England Patriots on Sunday.
TD.Sports is a self-described Jets fan and content creator who has developed a 50,000-plus follower count by breaking down NFL players and team trends both sincerely and ironically. He analyzed the first of rookie quarterback Zach Wilson's four interceptions, which came on his first career pass attempt in front of the home crowd at MetLife Stadium. The fan spared no one on the Jets offense and was especially ruthless toward wide receiver Corey Davis.
"This Patriots player is winning off the edge, this Jets lineman is probably holding. There's a Patriot charging at [Wilson] with absolutely no blocking at all," he said. "We have these two idiots staring at each other like 'what're we doing, I don't know let's just stand here.' We have [No.] 78 [tackle Morgan Moses] touching his own lineman. On top of that we have two receivers with zero separation, and the cherry on top has to be Zach Wilson throwing this pick, and Corey Davis has no hops."
The video was captioned "about to become a Rams bandwagon [fan]," and was viewed more than 2.6 million times on TikTok, plus thousands more across social media as of Wednesday. Most admirers appreciated the fan's monotonous tone while comically tearing each player apart.
Wilson, the No. 2 pick in the 2021 draft, has thrown five interceptions and completed just 55 percent of his passes through two games. He looked particularly lost while guiding the Jets to just a pair of field goals in their dismal defeat to the rival Patriots, who scored 17 points off Wilson turnovers and claimed their 11th straight victory over the Jets.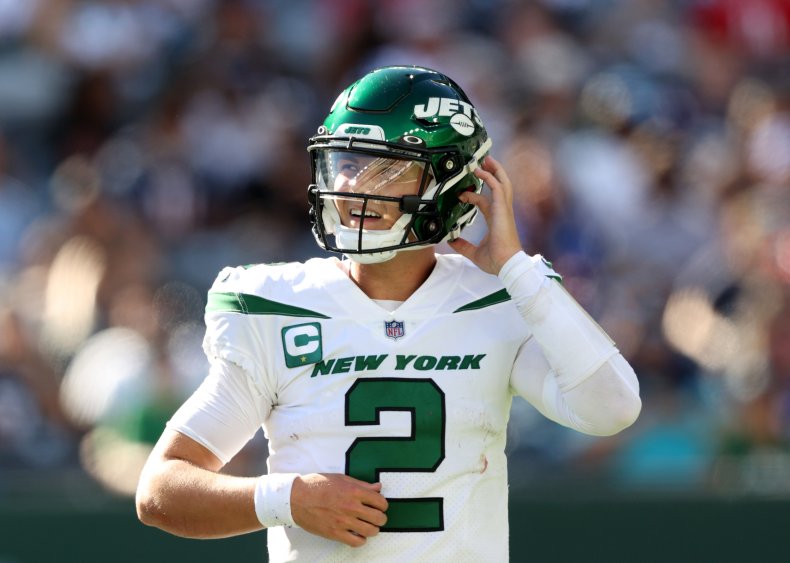 The fan may seem a bit young to be this cynical, but rooting for a team that is 0-2 for the fourth time in the past five seasons will do that. Like many good Jets fans who have been beaten down through years of false hope of elite quarterback play, he's skeptical about Wilson's future even just two games in.
On the plus side, the Los Angeles Rams are 2-0 and have scored 61 points through two games and seem like a solid alternate option for him or any other Jets fan looking for a bandwagon to jump on.