Viral Flight Video Shows Police Wrestling Passenger After Arguing With Attendant: 'You're Breaking My Neck!'
A video posted to Twitter shows the moment a man is dragged by police off a Ryanair flight after a dispute with an air steward over an empty seat next to his friend, in an incident he says left him injured and "very emotional." Now, Ryanair has banned the British men from its airline.
In the video, Portuguese police are seen grappling with 20-year-old Rafik Boutiche, trying to remove him from his seat and the plane at the airport in Faro. He was returning from a music festival with his friend, Islam Fessih, who tweeted the video on Wednesday.
"My hand is cut up, it's burning me at the moment," Boutiche, who is still in Portugal, told Mirror Online. "My ankle has been sprained and my neck is hurting me. We're just two young lads, we're not looking for trouble, we just wanted to get back home.
"I've never experienced anything like this, I never thought it was possible to go through what I've gone through. It's made me very emotional."
According to Fessih's tweets, Boutiche was "racially profiled and attacked on our flight," because an air hostess "accused him of punching her," which he strongly denies, after she refused him permission to change seats to an empty one next to his friend.
"You're breaking my neck! You're hurting my neck!" Boutiche shouts at the police as they wrestle him from his seat on the flight as other passengers plead with the officers to stop. Another video shows passengers telling police Boutiche did not punch anyone.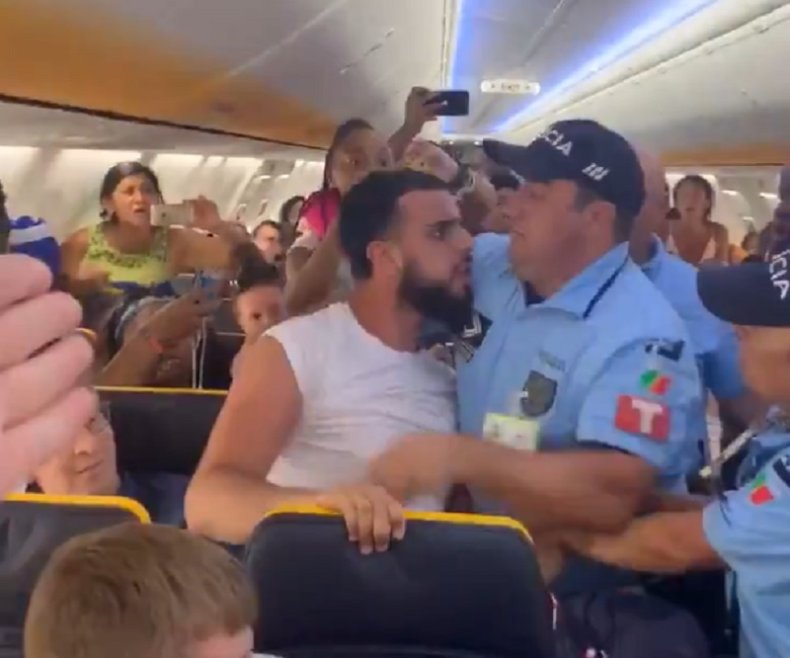 "His bag is literally ripped and he is injured," Fessih tweeted. "This is so not called for, the air hostess on the plane definitely has something against us and this is not the first time Ryanair has messed up with these kind of situations."
Ryanair did not respond immediately to Newsweek's request for comment.
In a follow-up tweet on Thursday morning, Fessih posted a screenshot of what appeared to be an email from Ryanair's customer services division. "This is their [response], we are not giving up!! We deserve JUSTICE and it will be served," he tweeted.
The email stated: "I regret to inform you that due to your disruptive behaviour on board Ryanair flight FR9543 on the 07Aug2019, you are hereby prohibited from flying with Ryanair again.
"Please be advised that your personal details have been highlighted and you will not be accepted to travel on any Ryanair flight in the future.
"Please do not make any reservations for travel with Ryanair as once you log your personal details, our system will highlight your reservation and you will be denied travel without refund."
Fessih did not respond immediately to Newsweek's request for comment.