Teen Shoves Bear off Wall To Save Her Dogs in Viral Video
A teen's mission to save her dogs from a bear in her garden has gone viral on TikTok, after CCTV footage captured her casually shoving the ursine creature away with her own hands.
Hailey, 17, rushed to protect her pets at her home in California on Memorial Day after realizing they were barking at a bear. The clip, which can be seen here, shows the bear with its cubs on a wall, attempting to claw at one of the dogs.
Hailey ran over and pushed the bear back from the fence, before grabbing her dogs and running inside. A follow-up video posted without the "Oh No" audio on TikTok showed just how loud the bear and dogs were.
Branda, Hailey's cousin, shared the footage to her TikTok account on June 1, and gained over 15 million views in seven hours. "My cousin Hailey yeeted a bear off her fence today and saved her dogs. How's your Memorial Day?" she captioned the clip.
"I was in the mountains so that is actually really normal and it's summer so they always come now," explained Hailey in a video on her own account. "This is our garden area and the dogs start barking, and I just thought they were barking at dogs, because they always bark at dogs and squirrels or whatever. I go to tell them to stop and when I go over there to see what they're barking at, I'm like 'that's a funny-looking dog.' By the time I get there, the bear is literally picking up one of my dogs."
"I go over to the bear, I look it in the eyes and the first thing I think to do is push it. Push a bear, push an apex predator. To be honest, I don't think I pushed her that hard. I just pushed her enough to make her lose her balance, so she dropped my dog and I ran out of there. I grabbed my other dog, I sprained my finger and scraped my knee, but we're all OK," she added.
Hailey's quick thinking both impressed and shocked viewers of the video, with one writing: "She just shoved that bear like it was a stuffed animal.
"She fought a bear. Coolest person ever," wrote another viewer.
"Damn, that lady loves her dogs. Didn't even hesitate," commented a user on Reddit. A post sharing the video on Reddit has received over 10,000 votes and 3,000 comments in six hours.
Newsweek has contacted Hailey for comment.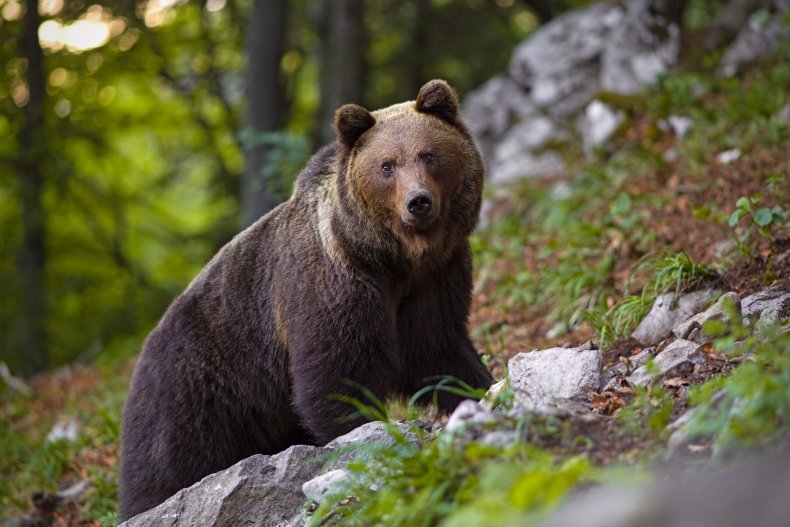 Correction 2/6/21: This article originally stated the TikTok video was uploaded on June 31. It was uploaded on June 1. Newsweek regrets the error.