Video of Man Calling Joe Biden a 'B****' Over Rising Gas Prices Viewed 2 Million Times
A video of a comedian calling President Joe Biden a "b****" over rising gas prices has gone viral on TikTok.
Joshua Nesbitt-Riley, who is from Dallas, posted the 13-second video on Wednesday.
"I am in no way, shape or form a conservative or a Democrat," he says, before flipping the camera to show gas priced at more than $3 per gallon.
"But Joe, every time I look at this, and every time my gas tank is agonizing in hunger, I just want you to know that you's a b****."
"Trump would never........... js," he captioned the video, along with a shrugging emoji.
Nesbitt-Riley has been contacted for comment.
His clip has so far has amassed over 2.2 million views, as well as 350,000 likes. Thousands of comments have also been left on the post, with TikTokers divided over whether the president is to blame for rising fuel prices.
"A year ago gas was 1.19 where I live. Now it's 2.99. Gas always goes up when Democrats are in office," Daniel Boom wrote.
One person wrote: "If u think biden raised gas prices u haven't taken an econ course."
Another posted: "People really don't understand what supply and demand is... gas prices would of risen if trump was still in office. Educate yourself."
But one commenter wrote: "The president DOES effect gas prices. I literally can't wrap my head around why people don't realize that."
Some TikTokers even called for the return of former President Donald Trump. "Just saying I could go for a mean tweet and $1.79 gas right about now," Jonathan Lowry wrote.
Gas prices have jumped recently, largely because of high crude oil prices and recovering demand.
Demand for gas had plummeted last year because of reduced travel during the COVID-19 pandemic. But demand is surging worldwide as countries emerge from lockdowns and lift restrictions.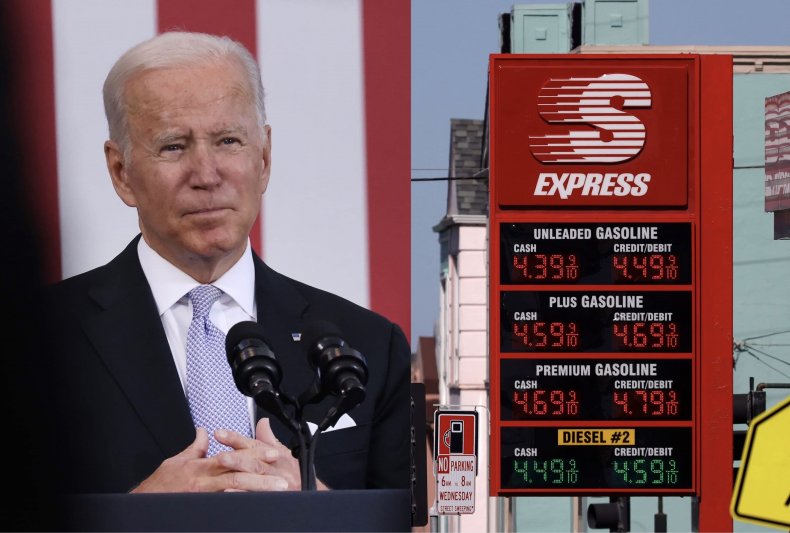 Newsweek recently reported that Americans are spending about $144 million more in gas per day under Biden than during Trump's presidency.
Data gathered by the U.S. Energy Information Administration shows the price averaged around $3 per gallon between February and July this year. Consumption was at roughly 370 million gallons a day during that period, with about $1.12 billion spent each day.
The average price of gas between 2017 and 2020, when Trump was in the White House, was about $2.57 per gallon. Gas consumption averaged 378 million gallons a day during that period, meaning the daily amount spent was about $972 million.
The rising cost of fuel could put pressure on Democrats in next year's midterm elections, according to political commentators.