Viral Video Reveals Silly Questions Heard in Yellowstone National Park
The United States is home to 63 national parks, spanning all 50 states. Yellowstone National Park in Wyoming, as well as parts of Montana and Idaho, was America's first, established in 1872, and is one of the most popular, according to the National Parks website.
Last month, a video posted by @yellowstonejobs went viral on TikTok for sharing various questions that employees at Yellowstone National Park Lodges have heard from tourists.
According to its website, Yellowstone National Park Lodges is the "primary concessionaire" within the park, offering nine different lodging options.
Kelly Burns, recruitment and digital marketing manager for Yellowstone National Park Lodges, told Newsweek in an email that their recruiting team is hearing "more and more" that potential employees are learning about them through TikTok.
In the video, now viewed nearly 400,000 times, the queries range from funny to confusing. It features each of the questions written over footage of various parts of the park.
"Tourists Say the Darndest Things ...," the account captioned the video.
"Are the bison animatronic?" reads the first question placed over footage of a group of bison.
"How much chlorine does it take to keep the lake clean?"
"Does Old Faithful go off in the winter?"
"What time do you let the animals out of their cages?"
Within Yellowstone, visitors can find an assortment of wildlife, from wolves to grizzly bears to America's largest buffalo herd, according to the National Parks website.
In November, USA Today reported that a woman captured a scary moment during a visit to Yellowstone when she and her group got a bit too close for comfort to a group of charging bison. Jessica Metts posted about the incident on Facebook, explaining that during a September visit to the park, she was walking across a bridge when dozens of bison suddenly began stampeding across.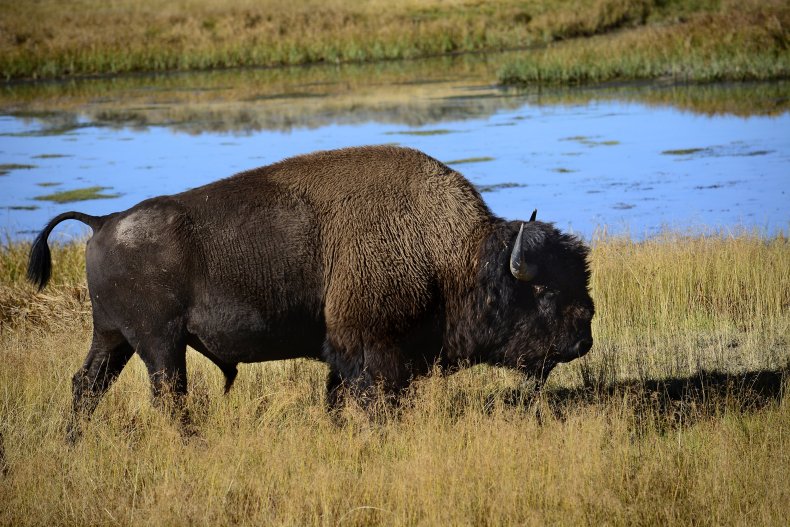 "​​The running of the bulls, Yellowstone style," she wrote in a post in the Yellowstone Insiders Hub Facebook group.
USA Today reported that the woman discovered that the animals routinely cross the bridge near Tower-Roosevelt and cautioned others to not walk across as she did.
As the bison passed, Metts and her group stood behind the guardrail on the side of the road.
Commenters on the video by Yellowstone National Park Lodges got a kick out of the questions, with some sharing their own stories of what they'd overheard or seen themselves at national parks.
"I was in Yellowstone once and watched a family try to walk up to an elk to pet it," one person wrote. "I thought I was going to see someone die that day."
"I worked in Yosemite, people ask what time we turn the waterfalls off at night," wrote another.
Update 03/01/22 9:15 a.m. EST: This story has been updated to include a comment from Yellowstone National Park Lodges.