A viral video of a dog's frightened reaction to seeing Darth Vader on screen for the first time has prompted a response from Star Wars actor Mark Hamill.
The popular video shows a dog named Ellie watching an early scene from the Star Wars Episode IV: A New Hope that shows the villainous Darth Vader emerging from a cloud of smoke. Ellie appears to be relaxed and sitting on a couch immediately before Vader's introduction. When Vader appears, the dog visibly reacts and slowly moves off the couch. By the end of the 26-second clip she is seen cowering while peeking from behind the couch as ominous music from the film plays.
"Smart dog," tweeted Hamill, who—spoiler alert—plays Vader's son Luke Skywalker in the film. "I only wish I'd thought of hiding behind the couch when I first met him."
The clip was initially shared by TikTok user @rustymetalcreation and had amassed well over 3 million views on the platform as of Thursday night. An early version of the video that included background music was posted on Sunday and had over 870,000 views. A version with the original audio was uploaded on Tuesday and gained 3.1 million additional views. Other videos on the channel identify the dog's name as Ellie, with one showing her surprised reaction to a video of horses.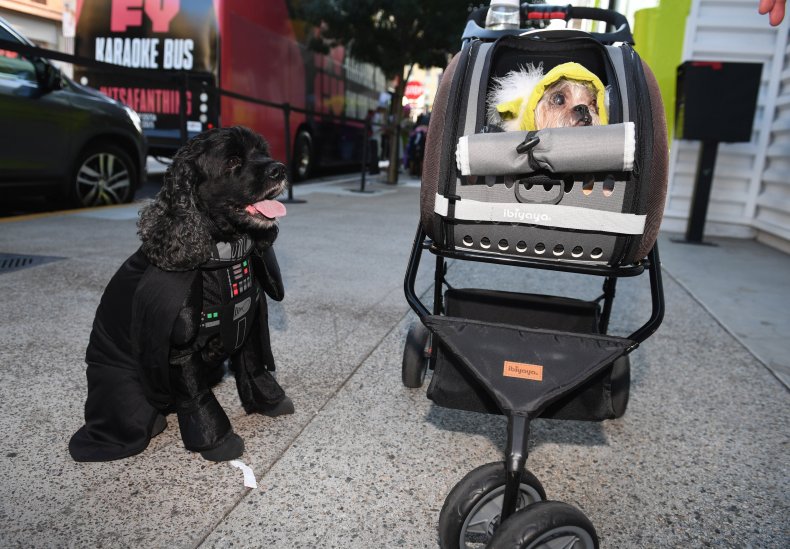 Hamill responded to a version of the video that was shared to Twitter and likely miscaptioned "Good boy is seeing Darth Vader for the first time," which had itself gathered at least 3.2 million views. Several other notable figures also reacted to the video on Twitter.
Actress Holly Robinson Peete commented "That Vader smoke," while musician Richard Marx simply tweeted "Sweetheart!" Former Major League Baseball player Jerry Hairston, Jr. echoed Hamill's response by tweeting "Smart Dog!"
The scene in question was the first-ever appearance of Vader, who was originally played by David Prowse and voiced by James Earl Jones. The character would go on to feature in six additional films, while being referenced in others and appearing in several additional types of Star Wars media, becoming one of the most recognizable villains in the history of pop culture.
Hamill has 4.6 million followers on Twitter and comments on Star Wars-related content frequently, often with tongue-in-cheek responses. His tweet prior to the dog reaction shared a New York Times article about a mysterious subatomic particle that apparently affects the "nature and evolution of the universe" while being "influenced by forms of matter and energy that are not yet known to science."
"Evidence is mounting that The Force has been with us... ALWAYS," tweeted Hamill.
Newsweek reached out to Hamill's representative for comment.