Viral Video Showing Fast Food Employee Eating Divides Commenters
A viral TikTok video with more than 100,000 views has left a comment section divided after a Pizza Hut employee is seen eating while at work.
The Tiktoker, who goes by the username babyzeusdope on TikTok and Yasmyne Chanel on Instagram, filmed an employee who had her back turned as she was chewing before walking away. Chanel has since been banned due to multiple community guidelines violations, according to TikTok, but her videos are still on her profile.
"Imagine picking up your food and seeing a worker EATING over your food," the text over the video read. The video caption read, "This is disgusting."
Of the more than 400 comments, a few commenters shared the same concern as Chanel.
"Health department," one TikTok viewer simply wrote.
Another commented, "Y'all saying all employees do this ummm no there's a designated place where you eat because [it's] a health code violation."
One commenter, who said they work in a kitchen also agreed with the TikToker.
"Look I work in a kitchen, she is breaking health department code," they wrote.
When the employee walked away from where she was standing it did not appear that there was any food present, something, that several commenters were quick to point out.
"She's not standing over anything," one commenter wrote.
"There's no food there," another TikTok viewer wrote. "If you haven't worked in the food industry, just say that."
Other commenters defended the employee and wrote that there could have been several reasons for her to grab a quick bite.
"She probably working a 10-hour shift," a comment read. "Can she not eat the whole shift? You don't have to eat there. Make some pizza at [your] house."
Another commenter, who claimed to be a former Pizza Hut employee, wrote that there wasn't a break room available.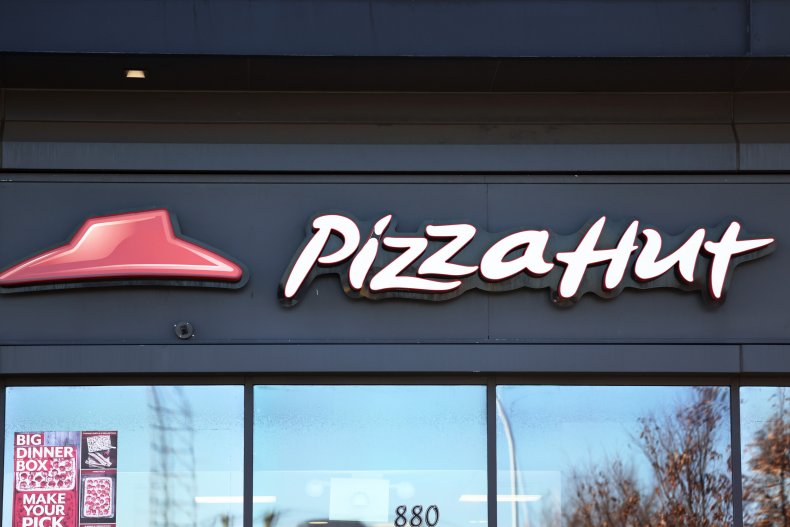 One viewer wrote that there was a possibility that the eatery may have been short-staffed and the employee didn't have another opportunity to have a bite to eat.
"What if she didn't have a break? What if [they're] short on staff and she been there every day...I swear people always have to [find] something!" a comment read.
Another person wrote that it's typical for employees in the foodservice industry to eat anytime and anywhere they can.
"A lot of fast-food employees do this, a lot of the times they don't get breaks," one commenter wrote.
Despite receiving and reading numerous comments defending the employee, Chanel stood by her video.
She told Newsweek that she did not record the entire incident, but said she saw the employee was at the front register and in the back eating with her hands.
"Imagine [you're] going to a sit-down restaurant and your waiter is eating in your face while taking your order. You would leave and that's exactly what we did," Chanel told Newsweek. "It's too much going on in this world, especially with COVID, for one to not care about others."
She continued and said she didn't expect the video to go viral or to get banned after she posted it.
"These restaurants need to train their employees on health hazards," Chanel said. "My opinion did not and will not change. It's disgusting."
Updated 11/05/2021, 5:20 p.m. ET: This story has been updated to reflect the TikToker's name as Yasmyne Chanel.