Viral Video Shows Atlanta Residents Applauding Healthcare Workers From Their Apartments During Shift Change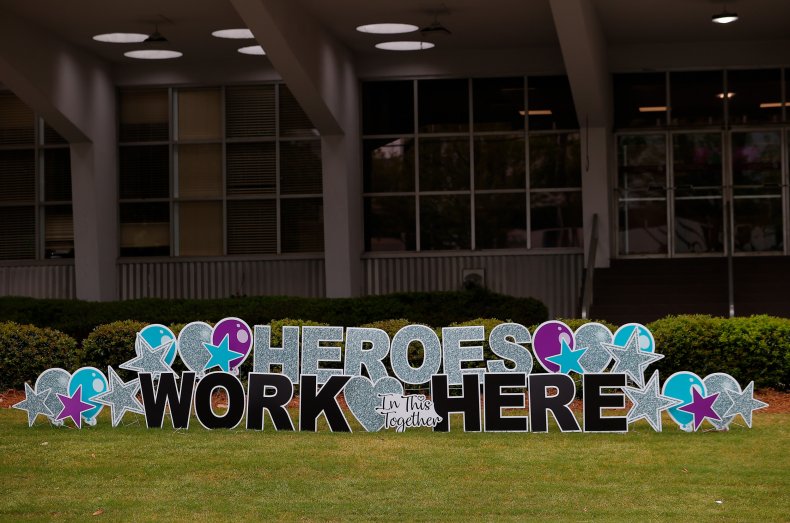 The video comes amid a time where doctors, nurses and other health care workers have been revered by citizens across the world for their hard work in fighting on the front lines of the coronavirus pandemic.
In the video, residents from multiple apartment buildings can be seen and heard yelling, clapping, whistling and cheering for the medical workers.
During the coronavirus pandemic that has swept across the world, Georgia has become a U.S. state hit hard by the virus. According to a tracker provided by Johns Hopkins University, there are over 1,300 confirmed cases of the novel coronavirus, which causes the respiratory disease COVID-19, in Georgia and at least 47 deaths.
The video comes a day after Atlanta Mayor Keisha Lance Bottoms stated that the city's ICU (intensive care unit) beds were nearing full capacity.
"I suspect that at some point soon our hospitals may get near capacity," she told CBS 46 in Atlanta.
"While there are still beds available...our ICU units are at capacity. This is why we have gone a step further in Atlanta and asked people to please stay home," she added.
A similar situation with residents cheering for healthcare workers happened in Vancouver, Canada. In videos from that city, Vancouver residents can be heard cheering, clapping even banging pots and pans in support of the health care workers amid the COVID-19 pandemic. As in Atlanta, the residents in Vancouver cheer as the workers change shifts at the local hospitals.
"#WestEnd 7pm cheer for our healthcare workers. Thank you," wrote Twitter user Malcolm Bromley with a video of residents cheering.
"Vancouver's West End 7 pm applause for health-care workers," wrote Twitter user Ryan Warawa.
"Solidarity is a beautiful thing. Every night at 7pm Vancouverites cheer hospital workers during their daily shift change by cheering and making noise to show love an appreciation," Twitter user James Moore wrote.
"Thank you Vancouver. This brought a tear. On behalf of the healthcare workers in the city. We are strong, we are unwavering, and we are here to protect you and care for you. We will not fall, #ThankYouHealthCareWorkers #COVID-19," Twitter user Darren Klass wrote.
According to the tracker, there are over 3,400 confirmed cases of the novel coronavirus in Canada, and at least 659 in British Columbia, the territory where Vancouver is located. There are also 35 deaths across Canada, with 14 of them in British Columbia. Across the globe, there are over 487,000 confirmed cases of the novel coronavirus and at least 22,030 deaths.