Viral Video Shows Culturally Appropriative Halloween Costumes for Sale at Major Retailer
With Halloween less than two weeks away, people around the country are in the midst of picking the perfect costume. National retailers like Target and Walmart have filled their aisles with decorations and costumes depicting some of pop culture's biggest stars. And a tradition almost as expected as jack-o-lanterns and bags of candy is vacant stores around the country turning into seasonal retailers that sell only Halloween costumes and decor.
The largest Halloween retailer is Spirit Halloween which has over 1,000 locations across the U.S. and Canada that open just for the period leading up to October 31.
While Halloween has its origins as a pagan ritual, it has now turned into a celebration filled with costumes and candy.
Though each year, the conversation resurfaces surrounding what costumes are appropriate and which are offensive to various cultures and ethnicities.
In 2016, Spirit Halloween received backlash for selling costumes depicting Native American stereotypes as well as costumes named "Geisha" and "Voodoo Queen," Buzzfeed reported at the time.
This week, TikTok user @courtwashere, posted a video in her local Spirit Halloween store showing various culturally appropriative costumes. Included in the video were wigs called "reggae dreads," "brown afro" and "afro mullet." Aside from the wigs, she also showed a section called "Dark Magic" and a section with what appeared to be modeled off of "Ancient Egypt."
"Wait is ancient Egyptian costume cultural appropriation? I've never thought about it," one commenter responded.
User @courtwashere said "idk if it's CA [cultural appropriation] but i def think it's rude? Even if it's clothes ppl don't wear anymore it still is dressing up as cultural history."
Based on the comments it appears as though every store's stock can be different. TikToker @courtwashere said her store used to be "good" but they had restocked, which is when she saw the things shot in her video.
Someone else asked, "how is dark magic cultural."
"African religious practices - it's actually one of the worst ones - image it as making fun of islamic of christian practices," said one commenter.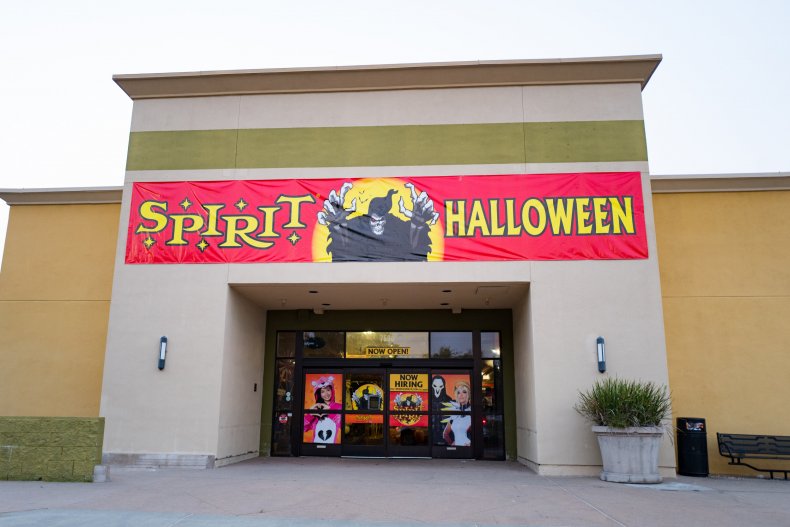 To the pushback she received in the comments, @courtwashere wrote, "we can have a discussion in the comments - but know the things i filmed are things IK [I know] r ca [cultural appropriation] or stuff i've been told is ca."
Celebrities have also been criticized in previous years for dressing up in appropriative and offensive costumes.
In 2013, actress and dancer Julianne Hough publicly apologized after dressing up as "Crazy Eyes" from Orange is the New Black after using makeup to make her face appear darker, Newsweek reported at the time.
In 2016, Insider reported, Hillary Duff and her then-boyfriend Jason Walsh were photographed at a Halloween party dressed as a Native American and pilgrim stereotype.
Newsweek reached out to @courtwashere and Spirit Halloween for comment.