Viral Video Shows Domino's Pizza Delivery Man Arrested After Stealing Amazon Package
A video showing a Domino's pizza delivery man being arrested by police after stealing an Amazon package from an apartment doorstep is going viral on TikTok.
The video, uploaded to the video-sharing app last Saturday, showed a Domino's delivery driver placing a pizza box in front of a person's apartment door. He then approached a door across the hallway to take an Amazon package. The video clearly showed him lifting a cardboard box from the doorstep and walking away.
The video ends with the man being handcuffed by police. The deliveryman's car, bearing the Domino's Pizza logo, is clearly in view behind him and the police officer. It's unclear where the incident took place.
The video quickly gained 500,000 views, The Daily Dot reported. But the TikTok account that originally posted the video, @prettyprincess30, has since been made private. As a result, the original video showing the theft and arrest can no longer be viewed.
However, a YouTuber named Joseph Morris captured the video and uploaded it to his YouTube account. Morris said that the video was originally recorded using a doorbell camera.
TikToker @prettyprincess30 wrote in the original video's comments that the Amazon package contained items intended for her sister's newborn baby girl. She also wrote that she was able to quickly track down the alleged thief because his Domino's Pizza is the only one that delivers in her area.
"So we knew where to go, and he was there," she wrote.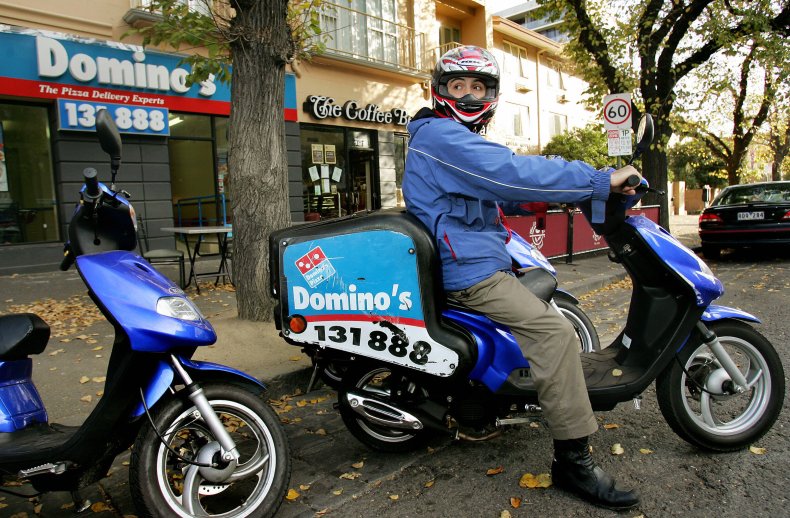 Approximately 36 percent of Americans have had packages on their doorsteps stolen by "porch pirates," according to a study released in December 2019 by the marketing agency C+R Research. The agency said that some thieves even follow delivery trucks so they can steal the packages soon after they've been delivered.
Porch pirates stole $6 billion worth of packages in 2020, according to the security access company Swiftlane. Almost 50 percent of apartment and townhome residents reported having a package stolen sometime during the year, the company said.
Swiftlane also said there was an increase in package thefts reported between 2019 and 2020. The increase could be attributable to the increased use of delivery services and online ordering during the pandemic lockdowns.
Between two to seven million more packages were delivered each month in the U.S. during the height of the COVID-19 pandemic than in the same month during 2019, according to the internet retailer news site Retail Commerce 360.
Amazon said that it hired 175,000 additional delivery and fulfillment workers during the 2020 pandemic to meet customer's increased delivery needs.
Newsweek contacted Domino's Pizza for comment but did not hear back before publication time.