Viral Video Shows Australian Fisherman Use Shark as a Bong
A video showing a fisherman in Australia using a small shark as a bong has gone viral online, with commenters both deriding and defending the young man over the stunt.
The footage, posted on the Facebook account of "Fried Fishing"—which depicts the antics of a group of fishermen in Australia—shows the small shark being used as a makeshift bong.
Read more: Australia Day, why do some Australians want to Abolish it?
Shot on a fishing boat in the early hours of the morning, the clip is edited with the children's song "Baby Shark" playing in the background. The fisherman holds the shark, which has had two tubes cut into it, and inhales deeply from the mouthpiece near its tail.
As he exhales, breathing out smoke, the young man also issues an expletive in apparent approval.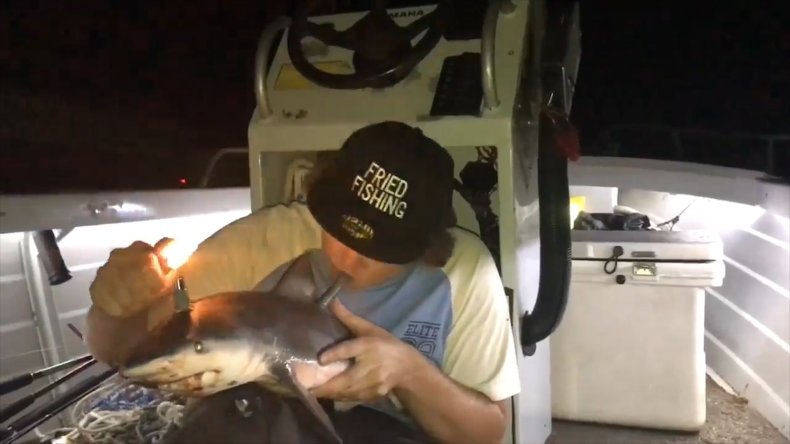 In reaction to criticism leveled online and in the press Fried Fishing has claimed the video shows the smoking of tobacco—recreational marijuana use in Australia is illegal—and confirmed that the shark was dead before it was converted into a bong.
"Lets [sic] clear some air up on this. The shark was caught by my mate fishing when we were fishing for mangrove jacks on Friday," a statement on Facebook read.
"After two nights left in the ice box I came up with the idea. There is no possible way [the shark] was alive. It was tobacco [and] I'd happily take a drug test to prove," it added.
Fried Fish, which has 21,000 followers online, has accused the media of publishing "false stories" carrying the footage. The Australian edition of the Daily Mail has characterized the video as "cruel" and "disturbing." One social media user was quoted by the news website as saying the fisherman was "off his head."
However, other commenters on Facebook have said negative reactions to the video are evidence that people "can't have a joke about anything anymore." Another social media user compared using the dead shark as a bong to cooking a pot roast and claimed one was no crueler than the other.
Australia's coastal waters are home to a variety of sharks. The high number of different species, many of which are unique to Australia, are the result of the island nation's proximity to three out of five of the world's major oceans and rich sources of food like the Great Barrier Reef and the East Australian current.
According to the SharkSider.com, as the result of a spate of deadly attacks on swimmers and surfers, the Australian government has backed a policy of culling great white sharks, which migrate across Australia's coast in search of food.