Viral Video Shows Fleet of Trucks Bringing Supplies into Wuhan China Amid Coronavirus Quarantine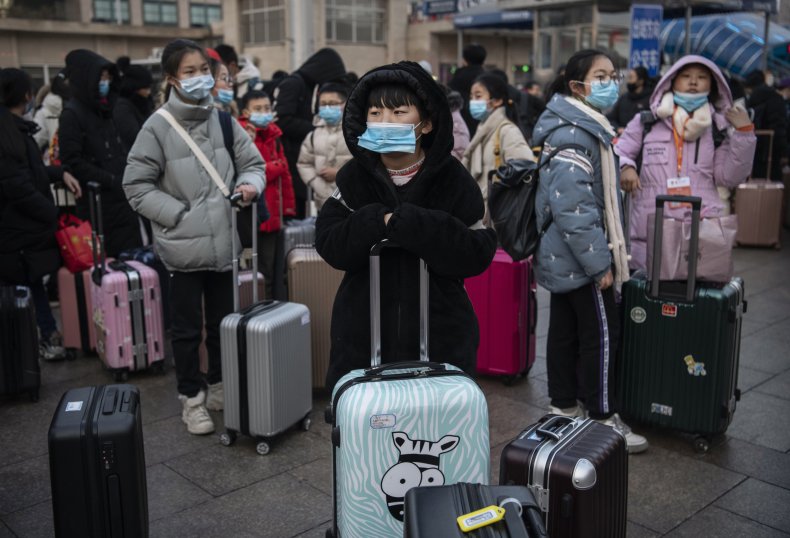 Amid the coronavirus outbreak in Wuhan, China, a video showing fleets of trucks bringing supplies to the city has gone viral.
"This video shows two key things about #nCoV2019 lockdown of #Wuhan: no vehicles are leaving the city (empty right lanes), huge congestion inbound, bringing supplies and food to the city. China is the only nation on earth that can mobilize on this scale," writes Laurie Garrett, former senior fellow for the Council on Foreign Relations.
The video comes during a very serious time in Wuhan, as the coronavirus has infected more than 900 people worldwide and has caused Chinese authorities to place a travel lockdown on 12 cities surrounding the nucleus of the outbreak.
The coronavirus was first reported in Wuhan by Chinese health officials to the World Health Organization (WHO) on December 31, 2019 and has since spread to a number of other countries such as Thailand, Japan, Korea France and the United States.
According to the Centers for Disease Control and Prevention (CDC), coronaviruses are a large family of viruses that can cause respiratory illness such as the common cold, and are common amongst animals, but only certain versions of the virus are known to infect humans.
The version of the virus that was discovered in Wuhan has been named 2019-nCoV, which is short for "2019 novel coronavirus," according to the CDC and it is the third strain of the virus to infect humans, with the other two being the Middle Eastern Respiratory Syndrome Coronavirus (MERS-CoV) and Severe Acute Respiratory Syndrome Coronavirus (SARS-CoV).
While the transportation lockdown aims to help stop the outbreak of the coronavirus, it has caused a number of other problems for the citizens who are quarantined. According to The New York Times, food prices began to spike and doctors at one hospital have sought help online due to their medical supplies running low.
According to the Times, the Hubei provincial governor Wang Xiaodong told the Chinese news outlet sina.com, that Wuhan currently has 11 million pounds of rice, 4,000 tons of cooking oil and more than 10,000 tons of pork and beef in reserve but the city was having more supplies shipped in from different cities and provinces across China.
Not only is China locking down cities and shipping supplies to them, but they have also set up a research team and allocated 1 billion yuan, equivalent to over $144 million U.S dollars, to combat the virius sina.com reported.
As of Friday, January 24, Chinese health officials reported that there had been 26 confirmed deaths from the coronavirus outbreak, all of them in China.