Viral Video Shows Man 'Buying Cocaine' Being Dropped off and Collected in Police Car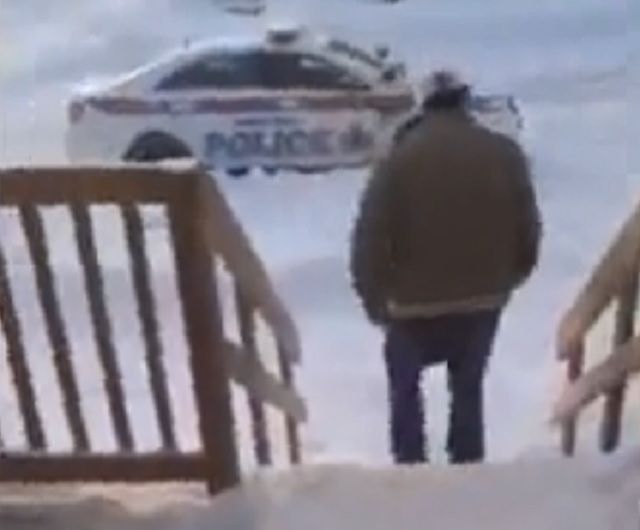 Police in Canada have launched an investigation after a video emerged showing what appears to be a man buying drugs inside a house before being picked up in a police car.
The clip, which has been viewed more than 16,000 times, shows a man in North Bay, Ontario, picking up what is believed to be cocaine and putting it in his pockets along with some tinfoil, reports Bay Today.
The man, described as someone "well-known" to police, then leaves the property and gets into the backseat of marked North Bay police car which is waiting for him outside. The vehicle then drives off with no lights or sirens.
The whole incident is recorded on a cell phone by another man known to police who says the appearance of the patrol vehicle is "suspicious. Very, very suspicious."
As the car drives off with the person who allegedly just purchased drugs inside, the man filming adds: "Yes, you really did just see that. Now if you ask me, that is definitely some fucked up shit."
The man recording the video claims that the male who purchased the cocaine shards also arrived at the address in the police car.
The video appears on the North Bay Anonymous Facebook page. In one post in which they re-upload the clip, the group asks if the police force is "ready to become fully transparent with its citizens. There's many questioning its behaviours ."
North Bay Police Chief Shawn Devine confirmed that both men are known to officers and that an internal investigation of the incident is underway. Devine added the officer driving the vehicle is not under investigation nor have they been suspended, reports The Nugget.
"This individual officer had no knowledge of any illegal actions," Devine said. "We expect this investigation to be concluded by the end of the week."
In a statement responding the video, Devine added: "Although the contents of the video appear concerning on its surface, I am confident that this one-sided account of what is being alleged is totally inaccurate and a misrepresentation of the facts as they transpired on that day.
"I await further details from investigators and will speak further to this incident upon completion of the investigation.
"After we do an investigation we have standard operating procedures that we look at and at that time we will decide if anything needs to be changed."
Warning: video contains strong language: